jBPM Community Day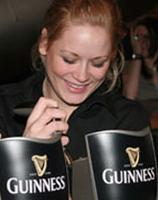 When: Friday afternoon June 6th 2008
Where: Dublin, Ireland
Venue: Guinness Store House
Venue Location: See this map
Registration cost: FREE !
Purpose: An informal get together of all people interested in jBPM.  You can meet up with jBPM core developers, partners and clients.
Registration: Send an email by clicking this link
Program:
Time

Type

Description

Speaker

Company

12:30

Arrival and Lunch

14:00

Keynote Session

Welcome and Opening

Tom Baeyens

JBoss

14:15

Keynote Session

jBPM evaluation and performance results from a users perspective

Joram Barrez

Dolmen

15:00

Discussion, break and/or networking

15:25

Keynote Session

How to combine processes and rules

Paul Brown

Firstpartners.net

15:45

Brainstorm Session

Community Speakup: How can we make jBPM better ?  Which are your favorite jira issues.  What are your feature requests.  We'll show the community beginners how to use the forums, jira and other project resources to get yourself heard.  Hopefully we can do that based on a few live examples with input from the experienced community members

16:00

Entertainment

Guided tour at around the Guinness Store house and Learning to pour a perfect Guinness

17:00

Keynote Session

The Process Virtual Machine

Tom Baeyens

JBoss

17:20

Parralel track 1

jPDL Interesting Features:  Koen will scan through the training material and highlight the most interesting features

Koen Aers

JBoss

17:20

Parralel track 2

PVM Community Brainstorm: Advanced session in which hot topics around PVM and jPDL developments will be discussed.  For topics, see and append below.

Tom Baeyens

JBoss

18:30

Discussion, break and/or networking

18:45

Reception menu evening meal

20:00

Explorations of the Dublin City
PVM Community Brainstorm
Target environment prioritization

Standard Java

Enterprise Java

Seam

Spring (what environment/tx do we target)

PVM API, PVM API vs jPDL API

BPMN to jPDL/XPDL and round tripping
Things to do in Dublin (Thanks,
Paul
)
Tour of Guinness brewery and visit the Gravity bar (one of the highest in Dublin)

Dublin Pub Tour and general social scene (it's a coincidence that the first 2 items are drink related!)

Tour of Scenic Wicklow Mountains and Glendalough

Liffey River tour by boat

Dublin Bus tour - including it's Georgian buildings and coastline

Newgrange - 2000 years older than the pyramids, in the stunning Boyne valley

Windsurfing , Kayaking or Rock climbing in Viking Carlingford Fjord.

Trinity College Dublin, 400 years old university , right in the city centre including the 1000 year old Book of Kells

For the more curious , Belfast is 2hrs away by express train in Northern Ireland.

Get lost in Phoneix Park, the worlds largest city centre park.
Places to Stay (Thanks,
Paul
)
3 of the Jury's Inn (Christchurch is just down the road from the event location, but the IFSC and Parnell Street are also good)

Academy hotel is ok, if slightly more expensive , if you're stuck.

If you want an airport location (about 20 mins / 20 Euro Taxi from the city centre) the Premier Inn chain are pretty good.

Hotel Isaacs is budget but decent , central and near the main bus / train stations.

Morgan hotel is where the presenters were put up for the Dublin Java conference. Central but Slightly more pricey.

For people from the community, there's also plenty of 'budget' backpacker type accommodation.