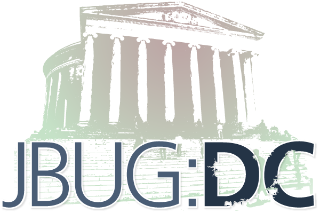 Description:
JBoss is much more than an Application server. With industry-leading frameworks such as Seam, Infinispan, and Hibernate, JBoss is raising the bar for enterprise Java. Our membership is comprised of industry practitioners, open source evangelists, and Java craftsmen. Each month, we meet to highlight some key JBoss technologies.

We are also active supporters of the DC area Technology User Groups community and coordinate regularly with them to hold joint meetings and share our insights and experiences with each other.


If you want to know more about JBoss technologies and how their role in the Federal Government, local area startups, and other DC area businesses, this is the group for you.



Come join your fellow JBoss peers and find out more about the latest Enterprise Java frameworks, platforms, languages, and/or services.

Owned By:
Tags:
dc, government, java, jboss, jbug, meetup, usergroup
Group Type:
Members only
Created:
September 5, 2011 2:59:22 AM