having problems getting test driven dev up and running with seam project.  Can anyone help
couple of problems
1.     i have a basic seam dev project and started to try and write some simple tests
2.     downloaded testNG from ecliupse plugin site
3.     tried to creae a simple test in my xxx-test project.  However this is where i first hit my problem.  I copied a simple test from Dan Allens 'seam in action book' and got compile errors when i tried to reference "List<FacesMessage> messages = FacesMessages.instance().getCurrentMessages();"
by default non of the jsf libraries required to make this work are on the build path of the test project.
it took me about an hour to find the requisite jar files jsf-api/jsf-impl in the "C:\jboss\jboss-5.1.0.GA\server\default\deploy\jbossweb.sar\jsf-libs" directory of my jboss build.
is this expected or an error?  I had to import these into the xxx.test/lib directory and then include in the class path to get the project to build.  Seems odd.
4.   then tried to run the test and got an error before it really gets started that i dont understand
{quote}
[Parser] Running:
  C:\documents and settings\802518659\Local Settings\Temp\testng-eclipse\testng-customsuite.xml
ERROR [org.jboss.kernel.plugins.dependency.AbstractKernelController] Error installing to Described: name=BeanDeployer state=PreInstall
java.lang.RuntimeException: java.lang.reflect.UndeclaredThrowableException
    at org.jboss.aop.util.ClassInfoMethodHashing.methodHash(ClassInfoMethodHashing.java:70)
    at org.jboss.aop.util.ClassInfoMethodHashing.addDeclaredMethods(ClassInfoMethodHashing.java:169)
    at org.jboss.aop.util.ClassInfoMethodHashing.populateMethodTables(ClassInfoMethodHashing.java:182)
    at org.jboss.aop.util.ClassInfoMethodHashing.populateMethodTables(ClassInfoMethodHashing.java:181)
    at org.jboss.aop.util.ClassInfoMethodHashing.populateMethodTables(ClassInfoMethodHashing.java:181)
    at org.jboss.aop.util.ClassInfoMethodHashing.populateMethodTables(ClassInfoMethodHashing.java:181)
    at org.jboss.aop.util.ClassInfoMethodHashing.populateMethodTables(ClassInfoMethodHashing.java:181)
    at org.jboss.aop.util.ClassInfoMethodHashing.populateMethodTables(ClassInfoMethodHashing.java:181)
    at org.jboss.aop.util.ClassInfoMethodHashing.getMethodMap(ClassInfoMethodHashing.java:188)
    at org.jboss.aop.microcontainer.integration.AOPDependencyBuilder.getMethodAnnotationDependencies(AOPDependencyBuilder.java:197)
    at org.jboss.aop.microcontainer.integration.AOPDependencyBuilder.getAnnotationDependencies(AOPDependencyBuilder.java:152)
    at org.jboss.aop.microcontainer.integration.AOPDependencyBuilder.getDependencies(AOPDependencyBuilder.java:130)
    at org.jboss.classadapter.plugins.BasicClassAdapter.getDependencies(BasicClassAdapter.java:80)
    at org.jboss.beans.info.plugins.AbstractBeanInfo.getDependencies(AbstractBeanInfo.java:211)
    at org.jboss.kernel.plugins.dependency.DescribeAction.installActionInternal(DescribeAction.java:53)
    at org.jboss.kernel.plugins.dependency.KernelControllerContextAction.installAction(KernelControllerContextAction.java:135)
    at org.jboss.kernel.plugins.dependency.KernelControllerContextAction.installAction(KernelControllerContextAction.java:46)
    at org.jboss.dependency.plugins.action.SimpleControllerContextAction.simpleInstallAction(SimpleControllerContextAction.java:62)
    at org.jboss.dependency.plugins.action.AccessControllerContextAction.install(AccessControllerContextAction.java:71)
    at org.jboss.dependency.plugins.AbstractControllerContextActions.install(AbstractControllerContextActions.java:51)
    at org.jboss.dependency.plugins.AbstractControllerContext.install(AbstractControllerContext.java:327)
    at org.jboss.dependency.plugins.AbstractController.install(AbstractController.java:1309)
    at org.jboss.dependency.plugins.AbstractController.incrementState(AbstractController.java:734)
    at org.jboss.dependency.plugins.AbstractController.resolveContexts(AbstractController.java:862)
    at org.jboss.dependency.plugins.AbstractController.resolveContexts(AbstractController.java:784)
    at org.jboss.dependency.plugins.AbstractController.install(AbstractController.java:574)
    at org.jboss.dependency.plugins.AbstractController.install(AbstractController.java:398)
    at org.jboss.kernel.plugins.deployment.AbstractKernelDeployer.deployBean(AbstractKernelDeployer.java:309)
    at org.jboss.kernel.plugins.deployment.AbstractKernelDeployer.deployBeans(AbstractKernelDeployer.java:279)
    at org.jboss.kernel.plugins.deployment.AbstractKernelDeployer.deploy(AbstractKernelDeployer.java:130)
    at org.jboss.kernel.plugins.deployment.xml.BeanXMLDeployer.deploy(BeanXMLDeployer.java:96)
    at org.jboss.embedded.Bootstrap.deployBaseBootstrapUrl(Bootstrap.java:130)
    at org.jboss.embedded.Bootstrap.bootstrapURL(Bootstrap.java:142)
    at org.jboss.embedded.Bootstrap.bootstrap(Bootstrap.java:183)
    at org.jboss.embedded.Bootstrap.bootstrap(Bootstrap.java:195)
    at org.jboss.seam.mock.EmbeddedBootstrap.startAndDeployResources(EmbeddedBootstrap.java:11)
    at org.jboss.seam.mock.AbstractSeamTest.startJbossEmbeddedIfNecessary(AbstractSeamTest.java:1024)
    at org.jboss.seam.mock.AbstractSeamTest.startSeam(AbstractSeamTest.java:915)
    at org.jboss.seam.mock.SeamTest.startSeam(SeamTest.java:58)
    at sun.reflect.NativeMethodAccessorImpl.invoke0(Native Method)
    at sun.reflect.NativeMethodAccessorImpl.invoke(NativeMethodAccessorImpl.java:39)
    at sun.reflect.DelegatingMethodAccessorImpl.invoke(DelegatingMethodAccessorImpl.java:25)
    at java.lang.reflect.Method.invoke(Method.java:597)
    at org.testng.internal.MethodHelper.invokeMethod(MethodHelper.java:607)
    at org.testng.internal.Invoker.invokeConfigurationMethod(Invoker.java:417)
    at org.testng.internal.Invoker.invokeConfigurations(Invoker.java:154)
    at org.testng.internal.Invoker.invokeConfigurations(Invoker.java:88)
    at org.testng.SuiteRunner.privateRun(SuiteRunner.java:284)
    at org.testng.SuiteRunner.run(SuiteRunner.java:204)
    at org.testng.TestNG.createAndRunSuiteRunners(TestNG.java:877)
    at org.testng.TestNG.runSuitesLocally(TestNG.java:842)
    at org.testng.TestNG.run(TestNG.java:751)
    at org.testng.remote.RemoteTestNG.run(RemoteTestNG.java:73)
    at org.testng.remote.RemoteTestNG.main(RemoteTestNG.java:124)
Caused by: java.lang.reflect.UndeclaredThrowableException
    at org.jboss.reflect.plugins.ArrayInfoImpl.getType(ArrayInfoImpl.java:103)
    at org.jboss.reflect.plugins.ClassInfoImpl.isArray(ClassInfoImpl.java:495)
    at org.jboss.aop.util.ClassInfoMethodHashing.getTypeString(ClassInfoMethodHashing.java:149)
    at org.jboss.aop.util.ClassInfoMethodHashing.methodHash(ClassInfoMethodHashing.java:53)
    ... 53 more
Caused by: java.lang.ClassNotFoundException: [Ljava.lang.Class;
    at java.net.URLClassLoader$1.run(URLClassLoader.java:202)
    at java.security.AccessController.doPrivileged(Native Method)
    at java.net.URLClassLoader.findClass(URLClassLoader.java:190)
    at java.lang.ClassLoader.loadClass(ClassLoader.java:307)
    at sun.misc.Launcher$AppClassLoader.loadClass(Launcher.java:301)
    at java.lang.ClassLoader.loadClass(ClassLoader.java:248)
    at org.jboss.reflect.plugins.introspection.IntrospectionTypeInfoFactoryImpl.resolveComplexTypeInfo(IntrospectionTypeInfoFactoryImpl.java:367)
    at org.jboss.reflect.plugins.introspection.IntrospectionTypeInfoFactoryImpl.getTypeInfo(IntrospectionTypeInfoFactoryImpl.java:344)
    at org.jboss.reflect.plugins.introspection.IntrospectionTypeInfoFactory.getTypeInfo(IntrospectionTypeInfoFactory.java:54)
    at org.jboss.reflect.plugins.ArrayInfoImpl.getType(ArrayInfoImpl.java:99)
    ... 56 more
ERROR [org.jboss.kernel.plugins.dependency.AbstractKernelController] Error installing to Described: name=KernelDeploymentDeployer state=PreInstall
java.lang.RuntimeException: java.lang.reflect.UndeclaredThrowableException
    at org.jboss.aop.util.ClassInfoMethodHashing.methodHash(ClassInfoMethodHashing.java:70)
    at org.jboss.aop.util.ClassInfoMethodHashing.addDeclaredMethods(ClassInfoMethodHashing.java:169)
    at org.jboss.aop.util.ClassInfoMethodHashing.populateMethodTables(ClassInfoMethodHashing.java:182)
    at org.jboss.aop.util.ClassInfoMethodHashing.populateMethodTables(ClassInfoMethodHashing.java:181)
    at org.jboss.aop.util.ClassInfoMethodHashing.populateMethodTables(ClassInfoMethodHashing.java:181)
    at org.jboss.aop.util.ClassInfoMethodHashing.populateMethodTables(ClassInfoMethodHashing.java:181)
    at org.jboss.aop.util.ClassInfoMethodHashing.populateMethodTables(ClassInfoMethodHashing.java:181)
    at org.jboss.aop.util.ClassInfoMethodHashing.getMethodMap(ClassInfoMethodHashing.java:188)
    at org.jboss.aop.microcontainer.integration.AOPDependencyBuilder.getMethodAnnotationDependencies(AOPDependencyBuilder.java:197)
    at org.jboss.aop.microcontainer.integration.AOPDependencyBuilder.getAnnotationDependencies(AOPDependencyBuilder.java:152)
    at org.jboss.aop.microcontainer.integration.AOPDependencyBuilder.getDependencies(AOPDependencyBuilder.java:130)
    at org.jboss.classadapter.plugins.BasicClassAdapter.getDependencies(BasicClassAdapter.java:80)
    at org.jboss.beans.info.plugins.AbstractBeanInfo.getDependencies(AbstractBeanInfo.java:211)
    at org.jboss.kernel.plugins.dependency.DescribeAction.installActionInternal(DescribeAction.java:53)
    at org.jboss.kernel.plugins.dependency.KernelControllerContextAction.installAction(KernelControllerContextAction.java:135)
    at org.jboss.kernel.plugins.dependency.KernelControllerContextAction.installAction(KernelControllerContextAction.java:46)
    at org.jboss.dependency.plugins.action.SimpleControllerContextAction.simpleInstallAction(SimpleControllerContextAction.java:62)
    at org.jboss.dependency.plugins.action.AccessControllerContextAction.install(AccessControllerContextAction.java:71)
    at org.jboss.dependency.plugins.AbstractControllerContextActions.install(AbstractControllerContextActions.java:51)
    at org.jboss.dependency.plugins.AbstractControllerContext.install(AbstractControllerContext.java:327)
    at org.jboss.dependency.plugins.AbstractController.install(AbstractController.java:1309)
    at org.jboss.dependency.plugins.AbstractController.incrementState(AbstractController.java:734)
    at org.jboss.dependency.plugins.AbstractController.resolveContexts(AbstractController.java:862)
    at org.jboss.dependency.plugins.AbstractController.resolveContexts(AbstractController.java:784)
    at org.jboss.dependency.plugins.AbstractController.install(AbstractController.java:574)
    at org.jboss.dependency.plugins.AbstractController.install(AbstractController.java:398)
    at org.jboss.kernel.plugins.deployment.AbstractKernelDeployer.deployBean(AbstractKernelDeployer.java:309)
    at org.jboss.kernel.plugins.deployment.AbstractKernelDeployer.deployBeans(AbstractKernelDeployer.java:279)
    at org.jboss.kernel.plugins.deployment.AbstractKernelDeployer.deploy(AbstractKernelDeployer.java:130)
    at org.jboss.kernel.plugins.deployment.xml.BeanXMLDeployer.deploy(BeanXMLDeployer.java:96)
    at org.jboss.embedded.Bootstrap.deployBaseBootstrapUrl(Bootstrap.java:130)
    at org.jboss.embedded.Bootstrap.bootstrapURL(Bootstrap.java:142)
    at org.jboss.embedded.Bootstrap.bootstrap(Bootstrap.java:183)
    at org.jboss.embedded.Bootstrap.bootstrap(Bootstrap.java:195)
    at org.jboss.seam.mock.EmbeddedBootstrap.startAndDeployResources(EmbeddedBootstrap.java:11)
    at org.jboss.seam.mock.AbstractSeamTest.startJbossEmbeddedIfNecessary(AbstractSeamTest.java:1024)
    at org.jboss.seam.mock.AbstractSeamTest.startSeam(AbstractSeamTest.java:915)
    at org.jboss.seam.mock.SeamTest.startSeam(SeamTest.java:58)
    at sun.reflect.NativeMethodAccessorImpl.invoke0(Native Method)
    at sun.reflect.NativeMethodAccessorImpl.invoke(NativeMethodAccessorImpl.java:39)
    at sun.reflect.DelegatingMethodAccessorImpl.invoke(DelegatingMethodAccessorImpl.java:25)
    at java.lang.reflect.Method.invoke(Method.java:597)
    at org.testng.internal.MethodHelper.invokeMethod(MethodHelper.java:607)
    at org.testng.internal.Invoker.invokeConfigurationMethod(Invoker.java:417)
    at org.testng.internal.Invoker.invokeConfigurations(Invoker.java:154)
    at org.testng.internal.Invoker.invokeConfigurations(Invoker.java:88)
    at org.testng.SuiteRunner.privateRun(SuiteRunner.java:284)
    at org.testng.SuiteRunner.run(SuiteRunner.java:204)
    at org.testng.TestNG.createAndRunSuiteRunners(TestNG.java:877)
    at org.testng.TestNG.runSuitesLocally(TestNG.java:842)
    at org.testng.TestNG.run(TestNG.java:751)
    at org.testng.remote.RemoteTestNG.run(RemoteTestNG.java:73)
    at org.testng.remote.RemoteTestNG.main(RemoteTestNG.java:124)
Caused by: java.lang.reflect.UndeclaredThrowableException
    at org.jboss.reflect.plugins.ArrayInfoImpl.getType(ArrayInfoImpl.java:103)
    at org.jboss.reflect.plugins.ClassInfoImpl.isArray(ClassInfoImpl.java:495)
    at org.jboss.aop.util.ClassInfoMethodHashing.getTypeString(ClassInfoMethodHashing.java:149)
    at org.jboss.aop.util.ClassInfoMethodHashing.methodHash(ClassInfoMethodHashing.java:53)
    ... 52 more
Caused by: java.lang.ClassNotFoundException: [Ljava.lang.Class;
    at java.net.URLClassLoader$1.run(URLClassLoader.java:202)
    at java.security.AccessController.doPrivileged(Native Method)
    at java.net.URLClassLoader.findClass(URLClassLoader.java:190)
    at java.lang.ClassLoader.loadClass(ClassLoader.java:307)
    at sun.misc.Launcher$AppClassLoader.loadClass(Launcher.java:301)
    at java.lang.ClassLoader.loadClass(ClassLoader.java:248)
    at org.jboss.reflect.plugins.introspection.IntrospectionTypeInfoFactoryImpl.resolveComplexTypeInfo(IntrospectionTypeInfoFactoryImpl.java:367)
    at org.jboss.reflect.plugins.introspection.IntrospectionTypeInfoFactoryImpl.getTypeInfo(IntrospectionTypeInfoFactoryImpl.java:344)
    at org.jboss.reflect.plugins.introspection.IntrospectionTypeInfoFactory.getTypeInfo(IntrospectionTypeInfoFactory.java:54)
    at org.jboss.reflect.plugins.ArrayInfoImpl.getType(ArrayInfoImpl.java:99)
    ... 55 more
ERROR [org.jboss.kernel.plugins.dependency.AbstractKernelController] Error installing to Described: name=BeanMetaDataDeployer state=PreInstall
java.lang.RuntimeException: java.lang.reflect.UndeclaredThrowableException
    at org.jboss.aop.util.ClassInfoMethodHashing.methodHash(ClassInfoMethodHashing.java:70)
    at org.jboss.aop.util.ClassInfoMethodHashing.addDeclaredMethods(ClassInfoMethodHashing.java:169)
    at org.jboss.aop.util.ClassInfoMethodHashing.populateMethodTables(ClassInfoMethodHashing.java:182)
    at org.jboss.aop.util.ClassInfoMethodHashing.populateMethodTables(ClassInfoMethodHashing.java:181)
    at org.jboss.aop.util.ClassInfoMethodHashing.populateMethodTables(ClassInfoMethodHashing.java:181)
    at org.jboss.aop.util.ClassInfoMethodHashing.populateMethodTables(ClassInfoMethodHashing.java:181)
    at org.jboss.aop.util.ClassInfoMethodHashing.getMethodMap(ClassInfoMethodHashing.java:188)
    at org.jboss.aop.microcontainer.integration.AOPDependencyBuilder.getMethodAnnotationDependencies(AOPDependencyBuilder.java:197)
    at org.jboss.aop.microcontainer.integration.AOPDependencyBuilder.getAnnotationDependencies(AOPDependencyBuilder.java:152)
    at org.jboss.aop.microcontainer.integration.AOPDependencyBuilder.getDependencies(AOPDependencyBuilder.java:130)
    at org.jboss.classadapter.plugins.BasicClassAdapter.getDependencies(BasicClassAdapter.java:80)
    at org.jboss.beans.info.plugins.AbstractBeanInfo.getDependencies(AbstractBeanInfo.java:211)
    at org.jboss.kernel.plugins.dependency.DescribeAction.installActionInternal(DescribeAction.java:53)
    at org.jboss.kernel.plugins.dependency.KernelControllerContextAction.installAction(KernelControllerContextAction.java:135)
    at org.jboss.kernel.plugins.dependency.KernelControllerContextAction.installAction(KernelControllerContextAction.java:46)
    at org.jboss.dependency.plugins.action.SimpleControllerContextAction.simpleInstallAction(SimpleControllerContextAction.java:62)
    at org.jboss.dependency.plugins.action.AccessControllerContextAction.install(AccessControllerContextAction.java:71)
    at org.jboss.dependency.plugins.AbstractControllerContextActions.install(AbstractControllerContextActions.java:51)
    at org.jboss.dependency.plugins.AbstractControllerContext.install(AbstractControllerContext.java:327)
    at org.jboss.dependency.plugins.AbstractController.install(AbstractController.java:1309)
    at org.jboss.dependency.plugins.AbstractController.incrementState(AbstractController.java:734)
    at org.jboss.dependency.plugins.AbstractController.resolveContexts(AbstractController.java:862)
    at org.jboss.dependency.plugins.AbstractController.resolveContexts(AbstractController.java:784)
    at org.jboss.dependency.plugins.AbstractController.install(AbstractController.java:574)
    at org.jboss.dependency.plugins.AbstractController.install(AbstractController.java:398)
    at org.jboss.kernel.plugins.deployment.AbstractKernelDeployer.deployBean(AbstractKernelDeployer.java:309)
    at org.jboss.kernel.plugins.deployment.AbstractKernelDeployer.deployBeans(AbstractKernelDeployer.java:279)
    at org.jboss.kernel.plugins.deployment.AbstractKernelDeployer.deploy(AbstractKernelDeployer.java:130)
    at org.jboss.kernel.plugins.deployment.xml.BeanXMLDeployer.deploy(BeanXMLDeployer.java:96)
    at org.jboss.embedded.Bootstrap.deployBaseBootstrapUrl(Bootstrap.java:130)
    at org.jboss.embedded.Bootstrap.bootstrapURL(Bootstrap.java:142)
    at org.jboss.embedded.Bootstrap.bootstrap(Bootstrap.java:183)
    at org.jboss.embedded.Bootstrap.bootstrap(Bootstrap.java:195)
    at org.jboss.seam.mock.EmbeddedBootstrap.startAndDeployResources(EmbeddedBootstrap.java:11)
    at org.jboss.seam.mock.AbstractSeamTest.startJbossEmbeddedIfNecessary(AbstractSeamTest.java:1024)
    at org.jboss.seam.mock.AbstractSeamTest.startSeam(AbstractSeamTest.java:915)
    at org.jboss.seam.mock.SeamTest.startSeam(SeamTest.java:58)
    at sun.reflect.NativeMethodAccessorImpl.invoke0(Native Method)
    at sun.reflect.NativeMethodAccessorImpl.invoke(NativeMethodAccessorImpl.java:39)
    at sun.reflect.DelegatingMethodAccessorImpl.invoke(DelegatingMethodAccessorImpl.java:25)
    at java.lang.reflect.Method.invoke(Method.java:597)
    at org.testng.internal.MethodHelper.invokeMethod(MethodHelper.java:607)
    at org.testng.internal.Invoker.invokeConfigurationMethod(Invoker.java:417)
    at org.testng.internal.Invoker.invokeConfigurations(Invoker.java:154)
    at org.testng.internal.Invoker.invokeConfigurations(Invoker.java:88)
    at org.testng.SuiteRunner.privateRun(SuiteRunner.java:284)
    at org.testng.SuiteRunner.run(SuiteRunner.java:204)
    at org.testng.TestNG.createAndRunSuiteRunners(TestNG.java:877)
    at org.testng.TestNG.runSuitesLocally(TestNG.java:842)
    at org.testng.TestNG.run(TestNG.java:751)
    at org.testng.remote.RemoteTestNG.run(RemoteTestNG.java:73)
    at org.testng.remote.RemoteTestNG.main(RemoteTestNG.java:124)
Caused by: java.lang.reflect.UndeclaredThrowableException
    at org.jboss.reflect.plugins.ArrayInfoImpl.getType(ArrayInfoImpl.java:103)
    at org.jboss.reflect.plugins.ClassInfoImpl.isArray(ClassInfoImpl.java:495)
    at org.jboss.aop.util.ClassInfoMethodHashing.getTypeString(ClassInfoMethodHashing.java:149)
    at org.jboss.aop.util.ClassInfoMethodHashing.methodHash(ClassInfoMethodHashing.java:53)
    ... 51 more
Caused by: java.lang.ClassNotFoundException: [Ljava.lang.Class;
    at java.net.URLClassLoader$1.run(URLClassLoader.java:202)
    at java.security.AccessController.doPrivileged(Native Method)
    at java.net.URLClassLoader.findClass(URLClassLoader.java:190)
    at java.lang.ClassLoader.loadClass(ClassLoader.java:307)
    at sun.misc.Launcher$AppClassLoader.loadClass(Launcher.java:301)
    at java.lang.ClassLoader.loadClass(ClassLoader.java:248)
    at org.jboss.reflect.plugins.introspection.IntrospectionTypeInfoFactoryImpl.resolveComplexTypeInfo(IntrospectionTypeInfoFactoryImpl.java:367)
    at org.jboss.reflect.plugins.introspection.IntrospectionTypeInfoFactoryImpl.getTypeInfo(IntrospectionTypeInfoFactoryImpl.java:344)
    at org.jboss.reflect.plugins.introspection.IntrospectionTypeInfoFactory.getTypeInfo(IntrospectionTypeInfoFactory.java:54)
    at org.jboss.reflect.plugins.ArrayInfoImpl.getType(ArrayInfoImpl.java:99)
    ... 54 more
ERROR [org.jboss.kernel.plugins.dependency.AbstractKernelController] Error installing to Described: name=SARDeployer state=PreInstall
java.lang.RuntimeException: java.lang.reflect.UndeclaredThrowableException
    at org.jboss.aop.util.ClassInfoMethodHashing.methodHash(ClassInfoMethodHashing.java:70)
    at org.jboss.aop.util.ClassInfoMethodHashing.addDeclaredMethods(ClassInfoMethodHashing.java:169)
    at org.jboss.aop.util.ClassInfoMethodHashing.populateMethodTables(ClassInfoMethodHashing.java:182)
    at org.jboss.aop.util.ClassInfoMethodHashing.populateMethodTables(ClassInfoMethodHashing.java:181)
    at org.jboss.aop.util.ClassInfoMethodHashing.populateMethodTables(ClassInfoMethodHashing.java:181)
    at org.jboss.aop.util.ClassInfoMethodHashing.populateMethodTables(ClassInfoMethodHashing.java:181)
    at org.jboss.aop.util.ClassInfoMethodHashing.populateMethodTables(ClassInfoMethodHashing.java:181)
    at org.jboss.aop.util.ClassInfoMethodHashing.populateMethodTables(ClassInfoMethodHashing.java:181)
    at org.jboss.aop.util.ClassInfoMethodHashing.getMethodMap(ClassInfoMethodHashing.java:188)
    at org.jboss.aop.microcontainer.integration.AOPDependencyBuilder.getMethodAnnotationDependencies(AOPDependencyBuilder.java:197)
    at org.jboss.aop.microcontainer.integration.AOPDependencyBuilder.getAnnotationDependencies(AOPDependencyBuilder.java:152)
    at org.jboss.aop.microcontainer.integration.AOPDependencyBuilder.getDependencies(AOPDependencyBuilder.java:130)
    at org.jboss.classadapter.plugins.BasicClassAdapter.getDependencies(BasicClassAdapter.java:80)
    at org.jboss.beans.info.plugins.AbstractBeanInfo.getDependencies(AbstractBeanInfo.java:211)
    at org.jboss.kernel.plugins.dependency.DescribeAction.installActionInternal(DescribeAction.java:53)
    at org.jboss.kernel.plugins.dependency.KernelControllerContextAction.installAction(KernelControllerContextAction.java:135)
    at org.jboss.kernel.plugins.dependency.KernelControllerContextAction.installAction(KernelControllerContextAction.java:46)
    at org.jboss.dependency.plugins.action.SimpleControllerContextAction.simpleInstallAction(SimpleControllerContextAction.java:62)
    at org.jboss.dependency.plugins.action.AccessControllerContextAction.install(AccessControllerContextAction.java:71)
    at org.jboss.dependency.plugins.AbstractControllerContextActions.install(AbstractControllerContextActions.java:51)
    at org.jboss.dependency.plugins.AbstractControllerContext.install(AbstractControllerContext.java:327)
    at org.jboss.dependency.plugins.AbstractController.install(AbstractController.java:1309)
    at org.jboss.dependency.plugins.AbstractController.incrementState(AbstractController.java:734)
    at org.jboss.dependency.plugins.AbstractController.resolveContexts(AbstractController.java:862)
    at org.jboss.dependency.plugins.AbstractController.resolveContexts(AbstractController.java:784)
    at org.jboss.dependency.plugins.AbstractController.install(AbstractController.java:574)
    at org.jboss.dependency.plugins.AbstractController.install(AbstractController.java:398)
    at org.jboss.kernel.plugins.deployment.AbstractKernelDeployer.deployBean(AbstractKernelDeployer.java:309)
    at org.jboss.kernel.plugins.deployment.AbstractKernelDeployer.deployBeans(AbstractKernelDeployer.java:279)
    at org.jboss.kernel.plugins.deployment.AbstractKernelDeployer.deploy(AbstractKernelDeployer.java:130)
    at org.jboss.kernel.plugins.deployment.xml.BeanXMLDeployer.deploy(BeanXMLDeployer.java:96)
    at org.jboss.embedded.Bootstrap.deployBaseBootstrapUrl(Bootstrap.java:130)
    at org.jboss.embedded.Bootstrap.bootstrapURL(Bootstrap.java:142)
    at org.jboss.embedded.Bootstrap.bootstrap(Bootstrap.java:183)
    at org.jboss.embedded.Bootstrap.bootstrap(Bootstrap.java:195)
    at org.jboss.seam.mock.EmbeddedBootstrap.startAndDeployResources(EmbeddedBootstrap.java:11)
    at org.jboss.seam.mock.AbstractSeamTest.startJbossEmbeddedIfNecessary(AbstractSeamTest.java:1024)
    at org.jboss.seam.mock.AbstractSeamTest.startSeam(AbstractSeamTest.java:915)
    at org.jboss.seam.mock.SeamTest.startSeam(SeamTest.java:58)
    at sun.reflect.NativeMethodAccessorImpl.invoke0(Native Method)
    at sun.reflect.NativeMethodAccessorImpl.invoke(NativeMethodAccessorImpl.java:39)
    at sun.reflect.DelegatingMethodAccessorImpl.invoke(DelegatingMethodAccessorImpl.java:25)
    at java.lang.reflect.Method.invoke(Method.java:597)
    at org.testng.internal.MethodHelper.invokeMethod(MethodHelper.java:607)
    at org.testng.internal.Invoker.invokeConfigurationMethod(Invoker.java:417)
    at org.testng.internal.Invoker.invokeConfigurations(Invoker.java:154)
    at org.testng.internal.Invoker.invokeConfigurations(Invoker.java:88)
    at org.testng.SuiteRunner.privateRun(SuiteRunner.java:284)
    at org.testng.SuiteRunner.run(SuiteRunner.java:204)
    at org.testng.TestNG.createAndRunSuiteRunners(TestNG.java:877)
    at org.testng.TestNG.runSuitesLocally(TestNG.java:842)
    at org.testng.TestNG.run(TestNG.java:751)
    at org.testng.remote.RemoteTestNG.run(RemoteTestNG.java:73)
    at org.testng.remote.RemoteTestNG.main(RemoteTestNG.java:124)
Caused by: java.lang.reflect.UndeclaredThrowableException
    at org.jboss.reflect.plugins.ArrayInfoImpl.getType(ArrayInfoImpl.java:103)
    at org.jboss.reflect.plugins.ClassInfoImpl.isArray(ClassInfoImpl.java:495)
    at org.jboss.aop.util.ClassInfoMethodHashing.getTypeString(ClassInfoMethodHashing.java:149)
    at org.jboss.aop.util.ClassInfoMethodHashing.methodHash(ClassInfoMethodHashing.java:53)
    ... 53 more
Caused by: java.lang.ClassNotFoundException: [Ljava.lang.Class;
    at java.net.URLClassLoader$1.run(URLClassLoader.java:202)
    at java.security.AccessController.doPrivileged(Native Method)
    at java.net.URLClassLoader.findClass(URLClassLoader.java:190)
    at java.lang.ClassLoader.loadClass(ClassLoader.java:307)
    at sun.misc.Launcher$AppClassLoader.loadClass(Launcher.java:301)
    at java.lang.ClassLoader.loadClass(ClassLoader.java:248)
    at org.jboss.reflect.plugins.introspection.IntrospectionTypeInfoFactoryImpl.resolveComplexTypeInfo(IntrospectionTypeInfoFactoryImpl.java:367)
    at org.jboss.reflect.plugins.introspection.IntrospectionTypeInfoFactoryImpl.getTypeInfo(IntrospectionTypeInfoFactoryImpl.java:344)
    at org.jboss.reflect.plugins.introspection.IntrospectionTypeInfoFactory.getTypeInfo(IntrospectionTypeInfoFactory.java:54)
    at org.jboss.reflect.plugins.ArrayInfoImpl.getType(ArrayInfoImpl.java:99)
    ... 56 more
ERROR [org.jboss.kernel.plugins.dependency.AbstractKernelController] Error installing to Described: name=ServiceClassLoaderDeployer state=PreInstall
java.lang.RuntimeException: java.lang.reflect.UndeclaredThrowableException
    at org.jboss.aop.util.ClassInfoMethodHashing.methodHash(ClassInfoMethodHashing.java:70)
    at org.jboss.aop.util.ClassInfoMethodHashing.addDeclaredMethods(ClassInfoMethodHashing.java:169)
    at org.jboss.aop.util.ClassInfoMethodHashing.populateMethodTables(ClassInfoMethodHashing.java:182)
    at org.jboss.aop.util.ClassInfoMethodHashing.populateMethodTables(ClassInfoMethodHashing.java:181)
    at org.jboss.aop.util.ClassInfoMethodHashing.populateMethodTables(ClassInfoMethodHashing.java:181)
    at org.jboss.aop.util.ClassInfoMethodHashing.populateMethodTables(ClassInfoMethodHashing.java:181)
    at org.jboss.aop.util.ClassInfoMethodHashing.getMethodMap(ClassInfoMethodHashing.java:188)
    at org.jboss.aop.microcontainer.integration.AOPDependencyBuilder.getMethodAnnotationDependencies(AOPDependencyBuilder.java:197)
    at org.jboss.aop.microcontainer.integration.AOPDependencyBuilder.getAnnotationDependencies(AOPDependencyBuilder.java:152)
    at org.jboss.aop.microcontainer.integration.AOPDependencyBuilder.getDependencies(AOPDependencyBuilder.java:130)
    at org.jboss.classadapter.plugins.BasicClassAdapter.getDependencies(BasicClassAdapter.java:80)
    at org.jboss.beans.info.plugins.AbstractBeanInfo.getDependencies(AbstractBeanInfo.java:211)
    at org.jboss.kernel.plugins.dependency.DescribeAction.installActionInternal(DescribeAction.java:53)
    at org.jboss.kernel.plugins.dependency.KernelControllerContextAction.installAction(KernelControllerContextAction.java:135)
    at org.jboss.kernel.plugins.dependency.KernelControllerContextAction.installAction(KernelControllerContextAction.java:46)
    at org.jboss.dependency.plugins.action.SimpleControllerContextAction.simpleInstallAction(SimpleControllerContextAction.java:62)
    at org.jboss.dependency.plugins.action.AccessControllerContextAction.install(AccessControllerContextAction.java:71)
    at org.jboss.dependency.plugins.AbstractControllerContextActions.install(AbstractControllerContextActions.java:51)
    at org.jboss.dependency.plugins.AbstractControllerContext.install(AbstractControllerContext.java:327)
    at org.jboss.dependency.plugins.AbstractController.install(AbstractController.java:1309)
    at org.jboss.dependency.plugins.AbstractController.incrementState(AbstractController.java:734)
    at org.jboss.dependency.plugins.AbstractController.resolveContexts(AbstractController.java:862)
    at org.jboss.dependency.plugins.AbstractController.resolveContexts(AbstractController.java:784)
    at org.jboss.dependency.plugins.AbstractController.install(AbstractController.java:574)
    at org.jboss.dependency.plugins.AbstractController.install(AbstractController.java:398)
    at org.jboss.kernel.plugins.deployment.AbstractKernelDeployer.deployBean(AbstractKernelDeployer.java:309)
    at org.jboss.kernel.plugins.deployment.AbstractKernelDeployer.deployBeans(AbstractKernelDeployer.java:279)
    at org.jboss.kernel.plugins.deployment.AbstractKernelDeployer.deploy(AbstractKernelDeployer.java:130)
    at org.jboss.kernel.plugins.deployment.xml.BeanXMLDeployer.deploy(BeanXMLDeployer.java:96)
    at org.jboss.embedded.Bootstrap.deployBaseBootstrapUrl(Bootstrap.java:130)
    at org.jboss.embedded.Bootstrap.bootstrapURL(Bootstrap.java:142)
    at org.jboss.embedded.Bootstrap.bootstrap(Bootstrap.java:183)
    at org.jboss.embedded.Bootstrap.bootstrap(Bootstrap.java:195)
    at org.jboss.seam.mock.EmbeddedBootstrap.startAndDeployResources(EmbeddedBootstrap.java:11)
    at org.jboss.seam.mock.AbstractSeamTest.startJbossEmbeddedIfNecessary(AbstractSeamTest.java:1024)
    at org.jboss.seam.mock.AbstractSeamTest.startSeam(AbstractSeamTest.java:915)
    at org.jboss.seam.mock.SeamTest.startSeam(SeamTest.java:58)
    at sun.reflect.NativeMethodAccessorImpl.invoke0(Native Method)
    at sun.reflect.NativeMethodAccessorImpl.invoke(NativeMethodAccessorImpl.java:39)
    at sun.reflect.DelegatingMethodAccessorImpl.invoke(DelegatingMethodAccessorImpl.java:25)
    at java.lang.reflect.Method.invoke(Method.java:597)
    at org.testng.internal.MethodHelper.invokeMethod(MethodHelper.java:607)
    at org.testng.internal.Invoker.invokeConfigurationMethod(Invoker.java:417)
    at org.testng.internal.Invoker.invokeConfigurations(Invoker.java:154)
    at org.testng.internal.Invoker.invokeConfigurations(Invoker.java:88)
    at org.testng.SuiteRunner.privateRun(SuiteRunner.java:284)
    at org.testng.SuiteRunner.run(SuiteRunner.java:204)
    at org.testng.TestNG.createAndRunSuiteRunners(TestNG.java:877)
    at org.testng.TestNG.runSuitesLocally(TestNG.java:842)
    at org.testng.TestNG.run(TestNG.java:751)
    at org.testng.remote.RemoteTestNG.run(RemoteTestNG.java:73)
    at org.testng.remote.RemoteTestNG.main(RemoteTestNG.java:124)
Caused by: java.lang.reflect.UndeclaredThrowableException
    at org.jboss.reflect.plugins.ArrayInfoImpl.getType(ArrayInfoImpl.java:103)
    at org.jboss.reflect.plugins.ClassInfoImpl.isArray(ClassInfoImpl.java:495)
    at org.jboss.aop.util.ClassInfoMethodHashing.getTypeString(ClassInfoMethodHashing.java:149)
    at org.jboss.aop.util.ClassInfoMethodHashing.methodHash(ClassInfoMethodHashing.java:53)
    ... 51 more
Caused by: java.lang.ClassNotFoundException: [Ljava.lang.Class;
    at java.net.URLClassLoader$1.run(URLClassLoader.java:202)
    at java.security.AccessController.doPrivileged(Native Method)
    at java.net.URLClassLoader.findClass(URLClassLoader.java:190)
    at java.lang.ClassLoader.loadClass(ClassLoader.java:307)
    at sun.misc.Launcher$AppClassLoader.loadClass(Launcher.java:301)
    at java.lang.ClassLoader.loadClass(ClassLoader.java:248)
    at org.jboss.reflect.plugins.introspection.IntrospectionTypeInfoFactoryImpl.resolveComplexTypeInfo(IntrospectionTypeInfoFactoryImpl.java:367)
    at org.jboss.reflect.plugins.introspection.IntrospectionTypeInfoFactoryImpl.getTypeInfo(IntrospectionTypeInfoFactoryImpl.java:344)
    at org.jboss.reflect.plugins.introspection.IntrospectionTypeInfoFactory.getTypeInfo(IntrospectionTypeInfoFactory.java:54)
    at org.jboss.reflect.plugins.ArrayInfoImpl.getType(ArrayInfoImpl.java:99)
    ... 54 more
ERROR [org.jboss.kernel.plugins.dependency.AbstractKernelController] Error installing to Described: name=ServiceDeploymentDeployer state=PreInstall
java.lang.RuntimeException: java.lang.reflect.UndeclaredThrowableException
    at org.jboss.aop.util.ClassInfoMethodHashing.methodHash(ClassInfoMethodHashing.java:70)
    at org.jboss.aop.util.ClassInfoMethodHashing.addDeclaredMethods(ClassInfoMethodHashing.java:169)
    at org.jboss.aop.util.ClassInfoMethodHashing.populateMethodTables(ClassInfoMethodHashing.java:182)
    at org.jboss.aop.util.ClassInfoMethodHashing.populateMethodTables(ClassInfoMethodHashing.java:181)
    at org.jboss.aop.util.ClassInfoMethodHashing.populateMethodTables(ClassInfoMethodHashing.java:181)
    at org.jboss.aop.util.ClassInfoMethodHashing.populateMethodTables(ClassInfoMethodHashing.java:181)
    at org.jboss.aop.util.ClassInfoMethodHashing.populateMethodTables(ClassInfoMethodHashing.java:181)
    at org.jboss.aop.util.ClassInfoMethodHashing.getMethodMap(ClassInfoMethodHashing.java:188)
    at org.jboss.aop.microcontainer.integration.AOPDependencyBuilder.getMethodAnnotationDependencies(AOPDependencyBuilder.java:197)
    at org.jboss.aop.microcontainer.integration.AOPDependencyBuilder.getAnnotationDependencies(AOPDependencyBuilder.java:152)
    at org.jboss.aop.microcontainer.integration.AOPDependencyBuilder.getDependencies(AOPDependencyBuilder.java:130)
    at org.jboss.classadapter.plugins.BasicClassAdapter.getDependencies(BasicClassAdapter.java:80)
    at org.jboss.beans.info.plugins.AbstractBeanInfo.getDependencies(AbstractBeanInfo.java:211)
    at org.jboss.kernel.plugins.dependency.DescribeAction.installActionInternal(DescribeAction.java:53)
    at org.jboss.kernel.plugins.dependency.KernelControllerContextAction.installAction(KernelControllerContextAction.java:135)
    at org.jboss.kernel.plugins.dependency.KernelControllerContextAction.installAction(KernelControllerContextAction.java:46)
    at org.jboss.dependency.plugins.action.SimpleControllerContextAction.simpleInstallAction(SimpleControllerContextAction.java:62)
    at org.jboss.dependency.plugins.action.AccessControllerContextAction.install(AccessControllerContextAction.java:71)
    at org.jboss.dependency.plugins.AbstractControllerContextActions.install(AbstractControllerContextActions.java:51)
    at org.jboss.dependency.plugins.AbstractControllerContext.install(AbstractControllerContext.java:327)
    at org.jboss.dependency.plugins.AbstractController.install(AbstractController.java:1309)
    at org.jboss.dependency.plugins.AbstractController.incrementState(AbstractController.java:734)
    at org.jboss.dependency.plugins.AbstractController.resolveContexts(AbstractController.java:862)
    at org.jboss.dependency.plugins.AbstractController.resolveContexts(AbstractController.java:784)
    at org.jboss.dependency.plugins.AbstractController.install(AbstractController.java:574)
    at org.jboss.dependency.plugins.AbstractController.install(AbstractController.java:398)
    at org.jboss.kernel.plugins.deployment.AbstractKernelDeployer.deployBean(AbstractKernelDeployer.java:309)
    at org.jboss.kernel.plugins.deployment.AbstractKernelDeployer.deployBeans(AbstractKernelDeployer.java:279)
    at org.jboss.kernel.plugins.deployment.AbstractKernelDeployer.deploy(AbstractKernelDeployer.java:130)
    at org.jboss.kernel.plugins.deployment.xml.BeanXMLDeployer.deploy(BeanXMLDeployer.java:96)
    at org.jboss.embedded.Bootstrap.deployBaseBootstrapUrl(Bootstrap.java:130)
    at org.jboss.embedded.Bootstrap.bootstrapURL(Bootstrap.java:142)
    at org.jboss.embedded.Bootstrap.bootstrap(Bootstrap.java:183)
    at org.jboss.embedded.Bootstrap.bootstrap(Bootstrap.java:195)
    at org.jboss.seam.mock.EmbeddedBootstrap.startAndDeployResources(EmbeddedBootstrap.java:11)
    at org.jboss.seam.mock.AbstractSeamTest.startJbossEmbeddedIfNecessary(AbstractSeamTest.java:1024)
    at org.jboss.seam.mock.AbstractSeamTest.startSeam(AbstractSeamTest.java:915)
    at org.jboss.seam.mock.SeamTest.startSeam(SeamTest.java:58)
    at sun.reflect.NativeMethodAccessorImpl.invoke0(Native Method)
    at sun.reflect.NativeMethodAccessorImpl.invoke(NativeMethodAccessorImpl.java:39)
    at sun.reflect.DelegatingMethodAccessorImpl.invoke(DelegatingMethodAccessorImpl.java:25)
    at java.lang.reflect.Method.invoke(Method.java:597)
    at org.testng.internal.MethodHelper.invokeMethod(MethodHelper.java:607)
    at org.testng.internal.Invoker.invokeConfigurationMethod(Invoker.java:417)
    at org.testng.internal.Invoker.invokeConfigurations(Invoker.java:154)
    at org.testng.internal.Invoker.invokeConfigurations(Invoker.java:88)
    at org.testng.SuiteRunner.privateRun(SuiteRunner.java:284)
    at org.testng.SuiteRunner.run(SuiteRunner.java:204)
    at org.testng.TestNG.createAndRunSuiteRunners(TestNG.java:877)
    at org.testng.TestNG.runSuitesLocally(TestNG.java:842)
    at org.testng.TestNG.run(TestNG.java:751)
    at org.testng.remote.RemoteTestNG.run(RemoteTestNG.java:73)
    at org.testng.remote.RemoteTestNG.main(RemoteTestNG.java:124)
Caused by: java.lang.reflect.UndeclaredThrowableException
    at org.jboss.reflect.plugins.ArrayInfoImpl.getType(ArrayInfoImpl.java:103)
    at org.jboss.reflect.plugins.ClassInfoImpl.isArray(ClassInfoImpl.java:495)
    at org.jboss.aop.util.ClassInfoMethodHashing.getTypeString(ClassInfoMethodHashing.java:149)
    at org.jboss.aop.util.ClassInfoMethodHashing.methodHash(ClassInfoMethodHashing.java:53)
    ... 52 more
Caused by: java.lang.ClassNotFoundException: [Ljava.lang.Class;
    at java.net.URLClassLoader$1.run(URLClassLoader.java:202)
    at java.security.AccessController.doPrivileged(Native Method)
    at java.net.URLClassLoader.findClass(URLClassLoader.java:190)
    at java.lang.ClassLoader.loadClass(ClassLoader.java:307)
    at sun.misc.Launcher$AppClassLoader.loadClass(Launcher.java:301)
    at java.lang.ClassLoader.loadClass(ClassLoader.java:248)
    at org.jboss.reflect.plugins.introspection.IntrospectionTypeInfoFactoryImpl.resolveComplexTypeInfo(IntrospectionTypeInfoFactoryImpl.java:367)
    at org.jboss.reflect.plugins.introspection.IntrospectionTypeInfoFactoryImpl.getTypeInfo(IntrospectionTypeInfoFactoryImpl.java:344)
    at org.jboss.reflect.plugins.introspection.IntrospectionTypeInfoFactory.getTypeInfo(IntrospectionTypeInfoFactory.java:54)
    at org.jboss.reflect.plugins.ArrayInfoImpl.getType(ArrayInfoImpl.java:99)
    ... 55 more
ERROR [org.jboss.kernel.plugins.dependency.AbstractKernelController] Error installing to Described: name=ServiceDeployer state=PreInstall
java.lang.RuntimeException: java.lang.reflect.UndeclaredThrowableException
    at org.jboss.aop.util.ClassInfoMethodHashing.methodHash(ClassInfoMethodHashing.java:70)
    at org.jboss.aop.util.ClassInfoMethodHashing.addDeclaredMethods(ClassInfoMethodHashing.java:169)
    at org.jboss.aop.util.ClassInfoMethodHashing.populateMethodTables(ClassInfoMethodHashing.java:182)
    at org.jboss.aop.util.ClassInfoMethodHashing.populateMethodTables(ClassInfoMethodHashing.java:181)
    at org.jboss.aop.util.ClassInfoMethodHashing.populateMethodTables(ClassInfoMethodHashing.java:181)
    at org.jboss.aop.util.ClassInfoMethodHashing.populateMethodTables(ClassInfoMethodHashing.java:181)
    at org.jboss.aop.util.ClassInfoMethodHashing.getMethodMap(ClassInfoMethodHashing.java:188)
    at org.jboss.aop.microcontainer.integration.AOPDependencyBuilder.getMethodAnnotationDependencies(AOPDependencyBuilder.java:197)
    at org.jboss.aop.microcontainer.integration.AOPDependencyBuilder.getAnnotationDependencies(AOPDependencyBuilder.java:152)
    at org.jboss.aop.microcontainer.integration.AOPDependencyBuilder.getDependencies(AOPDependencyBuilder.java:130)
    at org.jboss.classadapter.plugins.BasicClassAdapter.getDependencies(BasicClassAdapter.java:80)
    at org.jboss.beans.info.plugins.AbstractBeanInfo.getDependencies(AbstractBeanInfo.java:211)
    at org.jboss.kernel.plugins.dependency.DescribeAction.installActionInternal(DescribeAction.java:53)
    at org.jboss.kernel.plugins.dependency.KernelControllerContextAction.installAction(KernelControllerContextAction.java:135)
    at org.jboss.kernel.plugins.dependency.KernelControllerContextAction.installAction(KernelControllerContextAction.java:46)
    at org.jboss.dependency.plugins.action.SimpleControllerContextAction.simpleInstallAction(SimpleControllerContextAction.java:62)
    at org.jboss.dependency.plugins.action.AccessControllerContextAction.install(AccessControllerContextAction.java:71)
    at org.jboss.dependency.plugins.AbstractControllerContextActions.install(AbstractControllerContextActions.java:51)
    at org.jboss.dependency.plugins.AbstractControllerContext.install(AbstractControllerContext.java:327)
    at org.jboss.dependency.plugins.AbstractController.install(AbstractController.java:1309)
    at org.jboss.dependency.plugins.AbstractController.incrementState(AbstractController.java:734)
    at org.jboss.dependency.plugins.AbstractController.resolveContexts(AbstractController.java:862)
    at org.jboss.dependency.plugins.AbstractController.resolveContexts(AbstractController.java:784)
    at org.jboss.dependency.plugins.AbstractController.install(AbstractController.java:574)
    at org.jboss.dependency.plugins.AbstractController.install(AbstractController.java:398)
    at org.jboss.kernel.plugins.deployment.AbstractKernelDeployer.deployBean(AbstractKernelDeployer.java:309)
    at org.jboss.kernel.plugins.deployment.AbstractKernelDeployer.deployBeans(AbstractKernelDeployer.java:279)
    at org.jboss.kernel.plugins.deployment.AbstractKernelDeployer.deploy(AbstractKernelDeployer.java:130)
    at org.jboss.kernel.plugins.deployment.xml.BeanXMLDeployer.deploy(BeanXMLDeployer.java:96)
    at org.jboss.embedded.Bootstrap.deployBaseBootstrapUrl(Bootstrap.java:130)
    at org.jboss.embedded.Bootstrap.bootstrapURL(Bootstrap.java:142)
    at org.jboss.embedded.Bootstrap.bootstrap(Bootstrap.java:183)
    at org.jboss.embedded.Bootstrap.bootstrap(Bootstrap.java:195)
    at org.jboss.seam.mock.EmbeddedBootstrap.startAndDeployResources(EmbeddedBootstrap.java:11)
    at org.jboss.seam.mock.AbstractSeamTest.startJbossEmbeddedIfNecessary(AbstractSeamTest.java:1024)
    at org.jboss.seam.mock.AbstractSeamTest.startSeam(AbstractSeamTest.java:915)
    at org.jboss.seam.mock.SeamTest.startSeam(SeamTest.java:58)
    at sun.reflect.NativeMethodAccessorImpl.invoke0(Native Method)
    at sun.reflect.NativeMethodAccessorImpl.invoke(NativeMethodAccessorImpl.java:39)
    at sun.reflect.DelegatingMethodAccessorImpl.invoke(DelegatingMethodAccessorImpl.java:25)
    at java.lang.reflect.Method.invoke(Method.java:597)
    at org.testng.internal.MethodHelper.invokeMethod(MethodHelper.java:607)
    at org.testng.internal.Invoker.invokeConfigurationMethod(Invoker.java:417)
    at org.testng.internal.Invoker.invokeConfigurations(Invoker.java:154)
    at org.testng.internal.Invoker.invokeConfigurations(Invoker.java:88)
    at org.testng.SuiteRunner.privateRun(SuiteRunner.java:284)
    at org.testng.SuiteRunner.run(SuiteRunner.java:204)
    at org.testng.TestNG.createAndRunSuiteRunners(TestNG.java:877)
    at org.testng.TestNG.runSuitesLocally(TestNG.java:842)
    at org.testng.TestNG.run(TestNG.java:751)
    at org.testng.remote.RemoteTestNG.run(RemoteTestNG.java:73)
    at org.testng.remote.RemoteTestNG.main(RemoteTestNG.java:124)
Caused by: java.lang.reflect.UndeclaredThrowableException
    at org.jboss.reflect.plugins.ArrayInfoImpl.getType(ArrayInfoImpl.java:103)
    at org.jboss.reflect.plugins.ClassInfoImpl.isArray(ClassInfoImpl.java:495)
    at org.jboss.aop.util.ClassInfoMethodHashing.getTypeString(ClassInfoMethodHashing.java:149)
    at org.jboss.aop.util.ClassInfoMethodHashing.methodHash(ClassInfoMethodHashing.java:53)
    ... 51 more
Caused by: java.lang.ClassNotFoundException: [Ljava.lang.Class;
    at java.net.URLClassLoader$1.run(URLClassLoader.java:202)
    at java.security.AccessController.doPrivileged(Native Method)
    at java.net.URLClassLoader.findClass(URLClassLoader.java:190)
    at java.lang.ClassLoader.loadClass(ClassLoader.java:307)
    at sun.misc.Launcher$AppClassLoader.loadClass(Launcher.java:301)
    at java.lang.ClassLoader.loadClass(ClassLoader.java:248)
    at org.jboss.reflect.plugins.introspection.IntrospectionTypeInfoFactoryImpl.resolveComplexTypeInfo(IntrospectionTypeInfoFactoryImpl.java:367)
    at org.jboss.reflect.plugins.introspection.IntrospectionTypeInfoFactoryImpl.getTypeInfo(IntrospectionTypeInfoFactoryImpl.java:344)
    at org.jboss.reflect.plugins.introspection.IntrospectionTypeInfoFactory.getTypeInfo(IntrospectionTypeInfoFactory.java:54)
    at org.jboss.reflect.plugins.ArrayInfoImpl.getType(ArrayInfoImpl.java:99)
    ... 54 more
ERROR [org.jboss.kernel.plugins.dependency.AbstractKernelController] Error installing to Start: name=UserTransaction state=Create
java.lang.RuntimeException: Unable to locate the transaction manager
    at org.jboss.tm.TransactionManagerLocator.locate(TransactionManagerLocator.java:105)
    at org.jboss.ejb3.tx.TxUtil.getTransactionManager(TxUtil.java:56)
    at org.jboss.embedded.adapters.LocalOnlyUserTransaction.start(LocalOnlyUserTransaction.java:69)
    at sun.reflect.NativeMethodAccessorImpl.invoke0(Native Method)
    at sun.reflect.NativeMethodAccessorImpl.invoke(NativeMethodAccessorImpl.java:39)
    at sun.reflect.DelegatingMethodAccessorImpl.invoke(DelegatingMethodAccessorImpl.java:25)
    at java.lang.reflect.Method.invoke(Method.java:597)
    at org.jboss.reflect.plugins.introspection.ReflectionUtils.invoke(ReflectionUtils.java:56)
    at org.jboss.reflect.plugins.introspection.ReflectMethodInfoImpl.invoke(ReflectMethodInfoImpl.java:110)
    at org.jboss.joinpoint.plugins.BasicMethodJoinPoint.dispatch(BasicMethodJoinPoint.java:66)
    at org.jboss.kernel.plugins.dependency.KernelControllerContextAction$JoinpointDispatchWrapper.execute(KernelControllerContextAction.java:214)
    at org.jboss.kernel.plugins.dependency.ExecutionWrapper.execute(ExecutionWrapper.java:45)
    at org.jboss.kernel.plugins.dependency.KernelControllerContextAction.dispatchExecutionWrapper(KernelControllerContextAction.java:108)
    at org.jboss.kernel.plugins.dependency.KernelControllerContextAction.dispatchJoinPoint(KernelControllerContextAction.java:69)
    at org.jboss.kernel.plugins.dependency.LifecycleAction.installActionInternal(LifecycleAction.java:221)
    at org.jboss.kernel.plugins.dependency.KernelControllerContextAction.installAction(KernelControllerContextAction.java:135)
    at org.jboss.kernel.plugins.dependency.KernelControllerContextAction.installAction(KernelControllerContextAction.java:46)
    at org.jboss.dependency.plugins.action.SimpleControllerContextAction.simpleInstallAction(SimpleControllerContextAction.java:62)
    at org.jboss.dependency.plugins.action.AccessControllerContextAction.install(AccessControllerContextAction.java:71)
    at org.jboss.dependency.plugins.AbstractControllerContextActions.install(AbstractControllerContextActions.java:51)
    at org.jboss.dependency.plugins.AbstractControllerContext.install(AbstractControllerContext.java:327)
    at org.jboss.dependency.plugins.AbstractController.install(AbstractController.java:1309)
    at org.jboss.dependency.plugins.AbstractController.incrementState(AbstractController.java:734)
    at org.jboss.dependency.plugins.AbstractController.resolveContexts(AbstractController.java:862)
    at org.jboss.dependency.plugins.AbstractController.resolveContexts(AbstractController.java:784)
    at org.jboss.dependency.plugins.AbstractController.install(AbstractController.java:574)
    at org.jboss.dependency.plugins.AbstractController.install(AbstractController.java:398)
    at org.jboss.kernel.plugins.deployment.AbstractKernelDeployer.deployBean(AbstractKernelDeployer.java:309)
    at org.jboss.kernel.plugins.deployment.AbstractKernelDeployer.deployBeans(AbstractKernelDeployer.java:279)
    at org.jboss.kernel.plugins.deployment.AbstractKernelDeployer.deploy(AbstractKernelDeployer.java:130)
    at org.jboss.kernel.plugins.deployment.xml.BeanXMLDeployer.deploy(BeanXMLDeployer.java:96)
    at org.jboss.embedded.Bootstrap.deployBaseBootstrapUrl(Bootstrap.java:130)
    at org.jboss.embedded.Bootstrap.bootstrapURL(Bootstrap.java:142)
    at org.jboss.embedded.Bootstrap.bootstrap(Bootstrap.java:183)
    at org.jboss.embedded.Bootstrap.bootstrap(Bootstrap.java:195)
    at org.jboss.seam.mock.EmbeddedBootstrap.startAndDeployResources(EmbeddedBootstrap.java:11)
    at org.jboss.seam.mock.AbstractSeamTest.startJbossEmbeddedIfNecessary(AbstractSeamTest.java:1024)
    at org.jboss.seam.mock.AbstractSeamTest.startSeam(AbstractSeamTest.java:915)
    at org.jboss.seam.mock.SeamTest.startSeam(SeamTest.java:58)
    at sun.reflect.NativeMethodAccessorImpl.invoke0(Native Method)
    at sun.reflect.NativeMethodAccessorImpl.invoke(NativeMethodAccessorImpl.java:39)
    at sun.reflect.DelegatingMethodAccessorImpl.invoke(DelegatingMethodAccessorImpl.java:25)
    at java.lang.reflect.Method.invoke(Method.java:597)
    at org.testng.internal.MethodHelper.invokeMethod(MethodHelper.java:607)
    at org.testng.internal.Invoker.invokeConfigurationMethod(Invoker.java:417)
    at org.testng.internal.Invoker.invokeConfigurations(Invoker.java:154)
    at org.testng.internal.Invoker.invokeConfigurations(Invoker.java:88)
    at org.testng.SuiteRunner.privateRun(SuiteRunner.java:284)
    at org.testng.SuiteRunner.run(SuiteRunner.java:204)
    at org.testng.TestNG.createAndRunSuiteRunners(TestNG.java:877)
    at org.testng.TestNG.runSuitesLocally(TestNG.java:842)
    at org.testng.TestNG.run(TestNG.java:751)
    at org.testng.remote.RemoteTestNG.run(RemoteTestNG.java:73)
    at org.testng.remote.RemoteTestNG.main(RemoteTestNG.java:124)
FAILED CONFIGURATION: @BeforeSuite startSeam
org.jboss.deployers.client.spi.IncompleteDeploymentException: Summary of incomplete deployments (SEE PREVIOUS ERRORS FOR DETAILS):
{quote}
also included a screen shot of the testNG errors that follow the above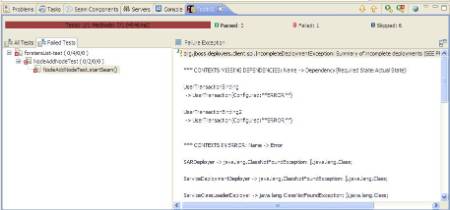 i'd really appreciate a hint as to what the error is as i cant figure what its telling me is wrong