This guide will show you how to deploy HTML5 Applications to Openshift.
Prerequisites
This article assumes you have created an application following the intstructions in Get Started With HTML5 Mobile Web Development with JBoss.
Openshift Setup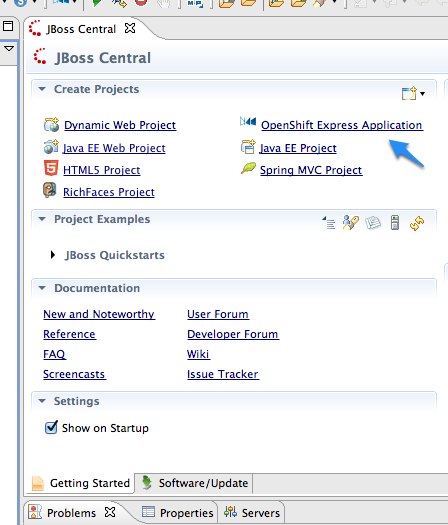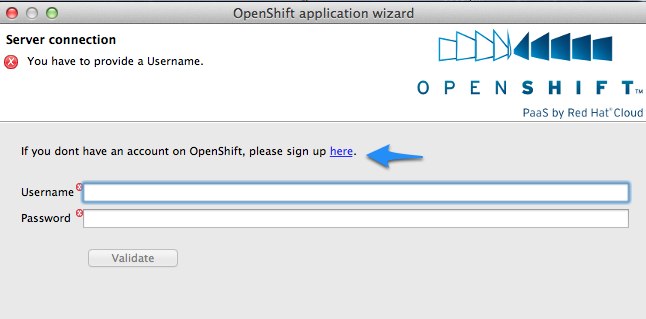 An Email containing a validation link should arrive at your mailbox.
You should accept the Openshift Terms and Conditions.
Voilà - your account should be ready.
We'll create a namespace for our apps (deploydemo on this tutorial) - When asked for a passphrase, just hit enter.
qmx@gondor ~ » rhc-create-domain -n deploydemo -l <your openshift account email> -a
WARNING: Unable to find '/Users/qmx/.ssh/libra_id_rsa.pub'
Your SSH keys are created either by running ssh-keygen (password optional)
or by having the rhc-create-domain command do it for you.  If you created
them on your own (or want to use an existing keypair), be sure to paste
your public key into the express console at http://www.openshift.com.
The client tools use the value of 'ssh_key_file' in express.conf to find
your key followed by the defaults of libra_id_rsa[.pub] and then
id_rsa[.pub].
Password: 
Generating OpenShift Express ssh key to /Users/qmx/.ssh/libra_id_rsa
Generating public/private rsa key pair.
Enter passphrase (empty for no passphrase): 
Enter same passphrase again: 
Your identification has been saved in /Users/qmx/.ssh/libra_id_rsa.
Your public key has been saved in /Users/qmx/.ssh/libra_id_rsa.pub.
The key fingerprint is:
29:3e:82:37:b7:e3:c8:a7:eb:77:3f:13:e3:f2:81:71 qmx@gondor.local
The key's randomart image is:
+--[ RSA 2048]----+
|                 |
|                 |
|                 |
|         .       |
|      . S E      |
|   . . . +o      |
|  . + + ...o     |
|   o =+oo +.     |
|   .**oo +oo     |
+-----------------+
Checking ~/.ssh/config
Found rhcloud.com in ~/.ssh/config... No need to adjust
Alteration successful.

Now let's create the application at Openshift.
You need to uncheck the "Create New Project" checkbox...
... and select our "myapp" project.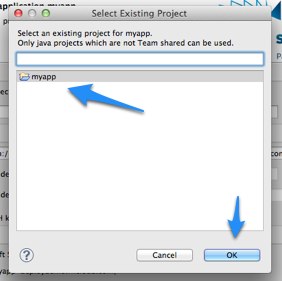 Click "Finish"
Openshift comes with some configurations, which need to be merged on our project.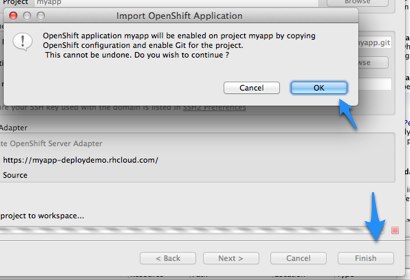 After this you can visit http://myapp-deploydemo.rhcloud.com (or http://<yourapp>-<domain>.rhcloud.com, if you used different settings)
As shown on the screenshot below, the default openshift application landing page is deployed.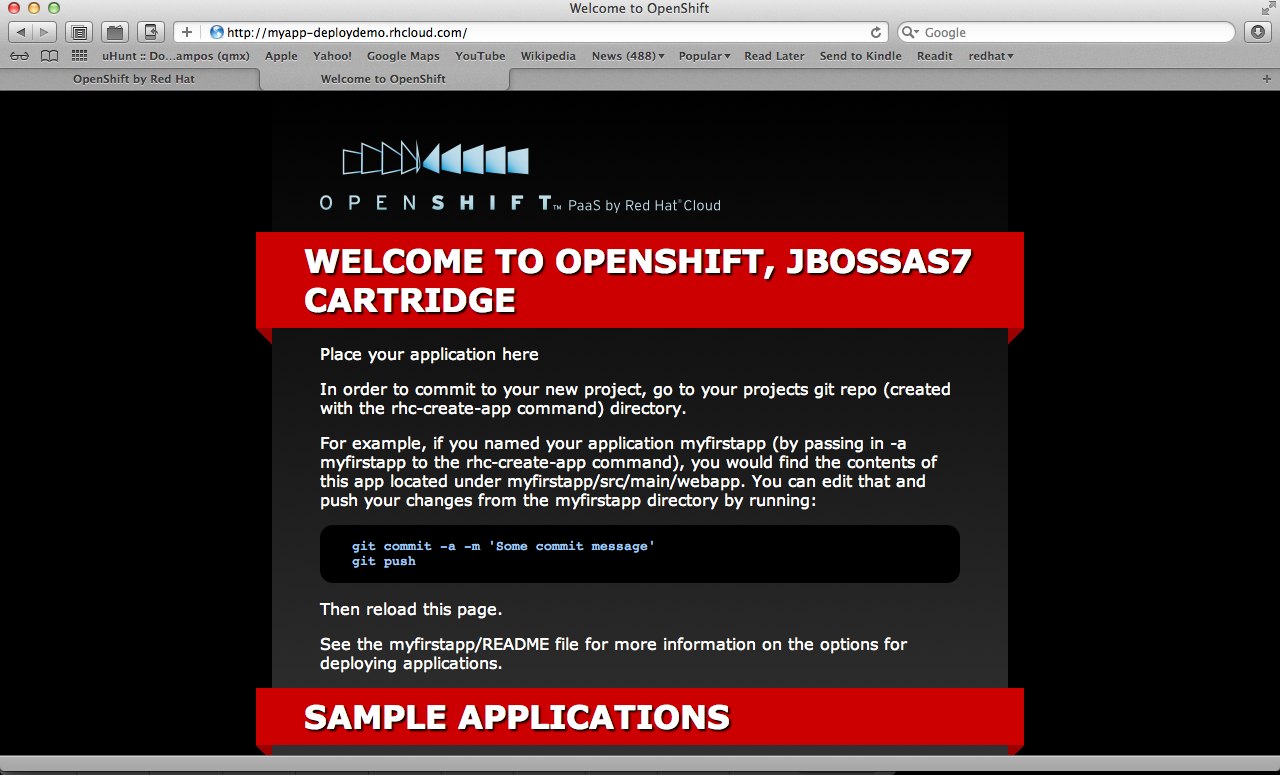 We need to publish our application to Openshift to trigger a new deployment. OpenShift is convenientely represented by a WTP Server entry.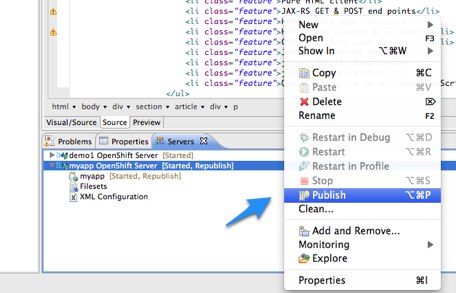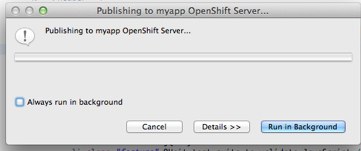 There we go! Our shiny new mobile webapp is successfully deployed!