Pré-requisitos
Como todo servidor de aplicação o JBoss AS 7 requer um ambiente com JDK 1.6/JDK 1.7 devidamente configurado e instalado
Para realizar a instalação do OpenJDK 7 no Fedora 18 basta executar o seguinte comando:
$ sudo yum install java-*-openjdk -y

Para verificar se o OpenJDK foi instalado execute java -version:
java version "1.7.0_19"
OpenJDK Runtime Environment (fedora-2.3.9.3.fc18-x86_64)
OpenJDK 64-Bit Server VM (build 23.7-b01, mixed mode)

Instalando o JBoss AS 7
Por padrão o JBoss AS 7 e suas dependências já estão disponíveis  nos repositórios oficiais sendo assim ele pode ser instalado utilizando o YUM com o seguinte comando:
$ sudo yum install jboss-as –y

Para iniciar o JBoss AS 7 pela primeira vez execute:
$ sudo systemctl start jboss-as.service

Por padrão uma instancia do Modo Standalone será iniciada. Acessando a url http://localhost:8080 você verá a pagina inicial do JBoss: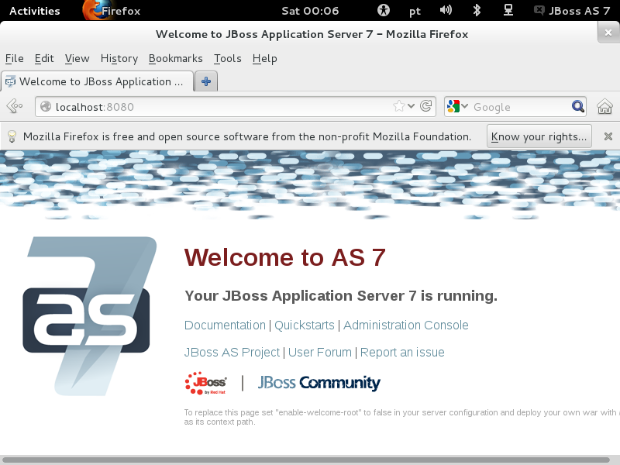 No Standalone mode podemos trabalhar com uma única instância muito semelhante a versões anteriores do JBoss AS 5 e JBoss AS 6. Para escolher o tipo de profile utilizado no modo
Standalone no Fedora 18 edite o arquivo sudo vim /etc/jboss-as/jboss-as.conf e altere o  atributo JBOSS_CONFIG:
# The configuration you want to run
JBOSS_CONFIG=standalone-full.xml
# The address to bind to
JBOSS_BIND=0.0.0.0

Reinicie o JBoss  e o novo profile estará em uso:
$ sudo systemctl restart jboss-as.service

O modo Domain permite iniciar várias instâncias e também oferece uma maneira centralizada  de gerenciamento dos recursos facilitando a administração das instâncias. Esse modo pode ser
visto como uma unidade de instâncias que compartilham recursos e configurações e são  administradas por um processo chamado Domain Controller. Para utilizar o modo Domain no  Fedora 18 edite o arquivo de serviço /usr/lib/systemd/system/jboss-as.service alterando o atributo ExecStart para utilizar o script domain.sh
ExecStart=/usr/share/jboss-as/bin/domain.sh -c $JBOSS_CONFIG -b $JBOSS_BIND

Execute o comando para recarregar as configurações de serviço:
$ sudo systemctl --system daemon-reload

Reinicie o JBoss com o commando:
$ sudo systemctl restart jboss-as.service

Agora o JBoss está executando em Modo Domain.
Instalando Mod Cluster
Assim como o JBoss AS 7 o mod_cluster está disponível nos repositórios oficiais da Fedora 18.  Para instalar execute o seguinte comando:
$ sudo yum install mod_cluster

Agora edite o arquivo  /etc/httpd/conf.d/mod_cluster.conf e adicione a configuração inicial para o mod_cluster como abaixo:
LoadModule slotmem_module modules/mod_slotmem.so
LoadModule manager_module modules/mod_manager.so
LoadModule proxy_cluster_module modules/mod_proxy_cluster.so
LoadModule advertise_module modules/mod_advertise.so
<VirtualHost *:80>
     KeepAliveTimeout 60 
     ManagerBalancerName mycluster
     MaxKeepAliveRequests 0
     ServerAdvertise On
     EnableMCPMReceive On
</VirtualHost>

<Location /mod_cluster_manager>
     SetHandler mod_cluster-manager
</Location>

Edite o arquivo /etc/httpd/conf.modules.d/00-proxy.conf e comente a linha LoadModule  proxy_balancer_module modules/mod_proxy_balancer.so , para não ocorrer um conflito com
LoadModule proxy_cluster_module modules/mod_proxy_cluster.so
Agora Edite o arquivo /etc/httpd/conf/httpd.conf alterando as permissões de acesso:
<Directory />
     AllowOverride none
     Require all granted
</Directory>

Reinicie o Apache Web Server:
$ sudo systemctl restart httpd.service

Acesse o mod_cluster-manager e verifique se as informações sobre a versão do mod_cluster  estão aparecendo: