Introduction
The following document describe the proposed Process Runtime Panels to be developed on top of the UF framework.
Green means: Phase 1
Yellow means: Phase 2
Red means: Phase 3/Future
Process Instances List
Features:
Data Grid Containing the Running and History Log Process Instances that were executed in the current/selected runtime
Filters

Runtime (Ksession Filter): This is an advanced filter, probably to not be displayed for regular business users, but for administration purposes and advanced users this will be very helpful
Dynamic Filters on top of the Data Grid Colums. A way to define different criterions based on the visible colums.
Static Filters: this section will show common static filters to do well defined queries that will be used to filter the data displayed in the data grid

Quick Actions for Process Instances:

A set of quick actions will be displayed. Based on the selected rows inside the data grid, this quick actions can be executed on a set or a single process instance.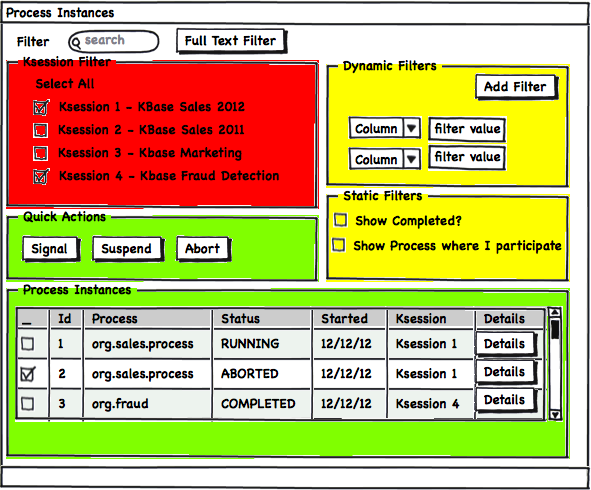 Process Instance Details
Features:
Status Widget: This widget will allows us to display the current status of the process graphically and in more advanced phases we can provide a Replay Button to show the previously executed steps
Runtime Data Details

This will include a quick access to the process model linking to the Process Designer
Basic data about the process state, current nodes, etc
It will provide also access to the map of Process Variables and a way to inspect Complex Objects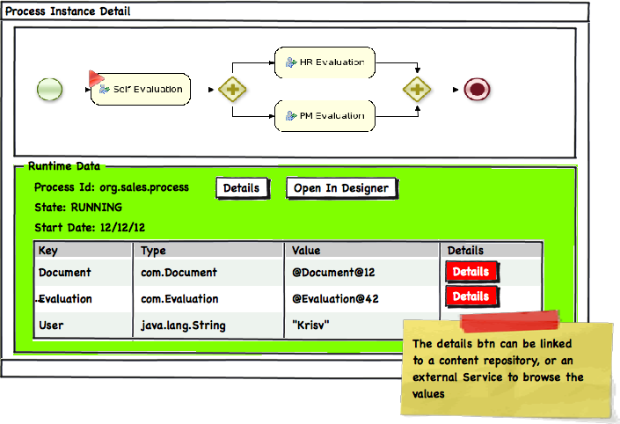 Process Instance Advanced Details Panels
These are a set of panels that gives us more details about the selected process instance. These panels can be arranged into different perspectives depending on the Users preferences.
Features:
Process Runtime Actions
Timers/Scheduled Jobs
Human Task Assignment
History Logs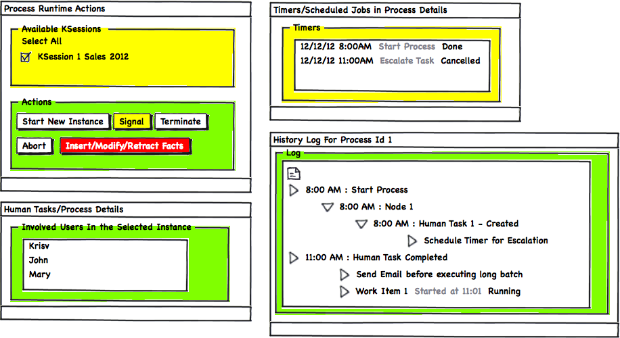 Process Definition Explorer
Features:
A set of panels to explore the available Process Definitions distributed in different Runtimes
The first phase will include a simple view without filters, more advanced features will be added like runtime filters later on
The ability to link the process definition inside a runtime environment with the Process Designer is vital
The possibility to get information from the process meta data can be added in a second phase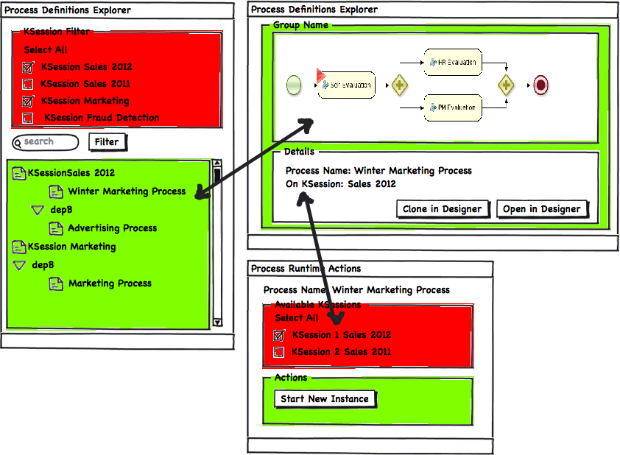 Panels Configurations
Features:
Every panel inside the infrastructure should have a way to configure itself based on per-user settings
A separate panel associated with the panel that we are configuring will be provided to customize the information displayed in the main panel
This example shows how the colums of the data grid can be filtered, ordered, etc.