Jopr 2.2 Sneak Peek
A lot of work has been put into the next release of Jopr 2.2. Its not quite ready for GA release yet, but we are close to releasing an upcoming beta. [Update: Jopr - Releases was released on March 3, 2009]
To help whet your appetite (with the goal of getting you to try Jopr 2.2 beta when its released ), this page will show you just a small portion of the new Jopr UI - you will find it very different than what you are used to seeing, as compared to the older versions.
Flash demos are being developed - as they come online, we'll link them here:
Below are some screen snapshots. Click each image to zoom.
1. The new UI comes with a menu bar to help you more easily navigate your inventory of resources. It includes an easy-to-use search option that helps you find a resource quickly.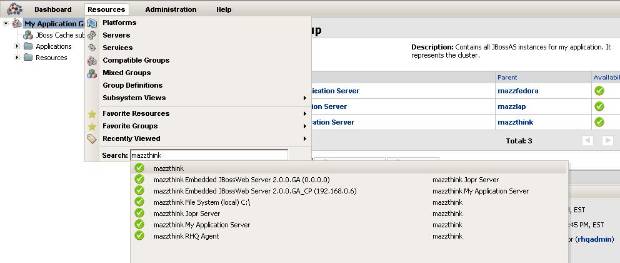 2. Jopr introduces a new left-nav tree that lets you see the full resource hierarchy of a selected platform. From this tree, you can select any resource or auto-group that is found on that platform. This is a major new feature of Jopr 2.2 and makes navigating and viewing your resources much faster and easier than ever before!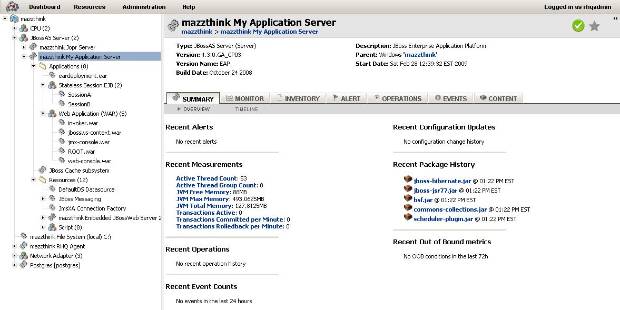 3. Jopr is not just a JBoss App Server management product. You can use it to manage any number of middleware and third-party products because it is a full management platform - its plugin framework can monitor, control and configure any product or resource (as long as you have a plugin for it). For example, Jopr comes with plugins to not only manage JBoss application servers, but also for Hibernate (see below), PostgreSQL (see below), Apache Web Server, Tomcat and EWS (coming soon!), JMX MBean Servers, libvirt Virtualization, OpenSSH daemon, Windows OS, Linux OS, and many more!
Hibernate:
PostgreSQL Database:
4. Another major achievement in the upcoming release is the group views and group configuration editing. If you have a cluster of resources (a cluster of JBossAS instances for example, or a cluster of PostgreSQL databases), you now have an easy-to-use hierarchical view of your group allowing you to see aggregated data and configuration across the group. Below is a 3-node group of JBossAS servers - notice how the graphs aggregate the metric data across all members of the group. You can drill down into individual members of the group by clicking on their links shown at the top of the page:
5. You can even view a group's configuration.  Here you see the aggregate configuration for a datasource in a 3-node JBossAS group - notice one of the settings, max-pool-size, has different values among the group members:
6. You can even edit group configurations! This is a major leap forward in functionality because you can perform group edits of a configuration across a cluster of resources, and track those changes with an audit trail that lets you view past configurations. Controlling the group as a whole is also possible with the group operation feature (again, with audit trail tracking).
Here you see where you can set the configuration for all members in the group - we can make these settings all the same, or we can set different values for each individual resource in the group: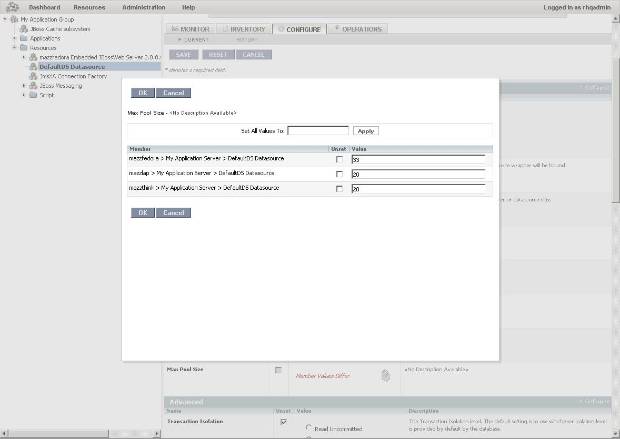 7. Subsystem views provide visibility across large inventories to critical events.You can view the latest fired alerts or the most recent configuration changes or application restarts across hundreds of application servers. All of these views provide filters to drill down to specifics.
8. Detailed availability histories are now viewable. See the long term statistics on your servers reliability.