JBoss Tools is made of a lot of plugins coming from different component, and that are aggregated for ease their installation. There are a lot of repositories. This page is intended to explain what are our repositories, what are they aimed to, and where they are coming from:
General process
Here is the general process of the lifecycle of sites in the build.
For each stream (branch or trunk) in progress:
Mirror requirements and composite specific versions into a single Requirements site
Build all common stuff (parent, target-platforms). Publish to maven artifacts to JBoss Nexus and update sites to download.jboss.org
Build each component and publish to download.jboss.org
A staging composite repository is used to provide a single URL for all components' update sites
A nightly snapshot is continuously created from the composite site. It contains the latest good build of each component, including categorization & source features/plugins. A test site is also created, containing only test features/plugins.
After a code-freeze, the nightly snapshot is first staged as a development milestone and passed to QE for validation. Upon approval, it is published to www.jboss.org.
After several milestone and validation cycles, we publish our best development milestone as a stable release.
The same applies to SOA components. Some additional steps exist to also build JBDS site and products continuously, following the same lifecycle.
Here's a diagram which shows how all the jobs, update sites, and other artifacts co-exist: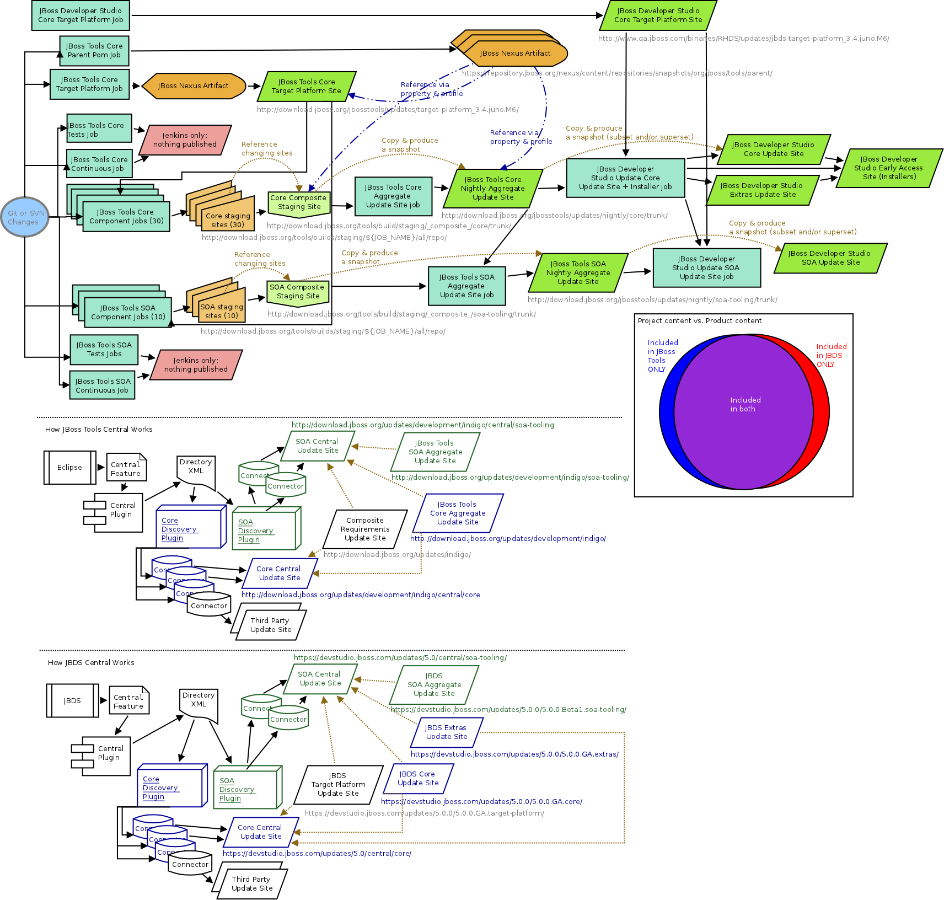 Repositories / Update-Sites
Requirements / Target-platfoms sites / Mirrors
These site are mirrors of dependencies of JBoss Tools. They are here to provide more performance and to ensure we have a backup of everything we depend on.
JBT (non-SOA)
JBT SOA
| URL | Name | Profile to activate in build | Quality/Stability | Performance | When to use it? |
| --- | --- | --- | --- | --- | --- |
| | | | | | |
| | | | | | |