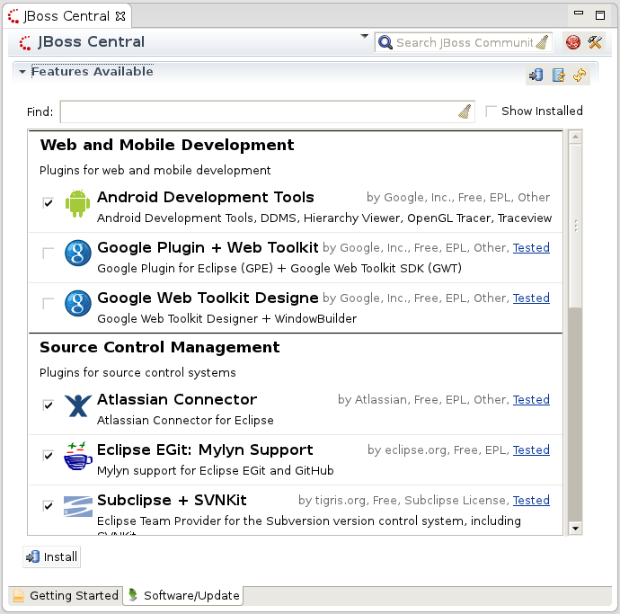 JBoss Central, based on Mylyn Discovery, is in part a UI for installing new features into Eclipse or JBDS. It provider a richer, yet simpler UI than what Eclipse's p2 Install Manager provides out of the box.
The Software/Update tab in Central is backed by three levels of metadata:
directory.xml file listing 1 or more discovery plugins (eg., 1 for the Core features, 1 for the Integration Stack (formerly SOA Tooling) features)


discovery plugin(s), which define groups of features ("Connectors") to be installed. This amounts to little more than a plugin.xml and some icons.


update site(s) referenced by the discovery plugin(s), which host the features to be installed. Sites can be 3rd party vendors' sites, or can be mirrored on download.jboss.org / devstudio.jboss.com for better guarantee of performance / version. Each connector can only define a SINGLE URL for that group of features, however. But that single URL can be a composite site, which in turn points to more than 1 site.
There are two simple rules to follow when writing your discovery plugin.xml:
connector

ID

s

must be stable -

should not

change between rel

e

ases




Where

license terms permit, 3rd party content should be mirrored first onto download.jboss.org and/or devstudio.jboss.com, so that the site content can be more easily controlled / guaranteed
How about some working examples?
JBoss Developer Studio 5.0
JBoss Developer Studio 6.0