I'm just back from JUDCon London, sitting in an airport on the way to Boston with some time to write this summary. Last year we did JUDCon Europe in Berlin and it was a great choice. But this year we thought we'd move it around a little and also do something else different: team up with the JAX folks and specifically JAX London. It was an inspired decision that worked out very well! I want to say a big 'thank you' to the JAX London organisers who did a fantastic job for the two days, as well as to the JBoss team who set things up beforehand. And of course many thanks to everyone who turned up to the event and sat in the audience and participated: this event wouldn't be the same without you!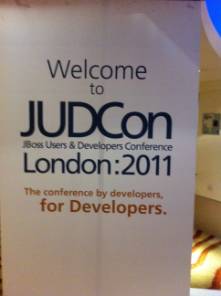 The attendance was good too, and everyone I spoke with had only positive things to say about the event, the location, and the sessions. The evening lightning talks and hackfest went well, with us even having a Halloween themed competition for best lightning talks. And an Asylum Podcast (available soon!) on the Polyglot JBoss, which will make an interesting listen. Probably the only issue on the evening was that 150 pizzas was maybe slight overkill for everyone We had a mix of talks from people within Red Hat but also from our communities; the "by developers for developers" theme definitely stuck and pretty much all of the sessions I attended had a significant amount of cutting code happening on stage!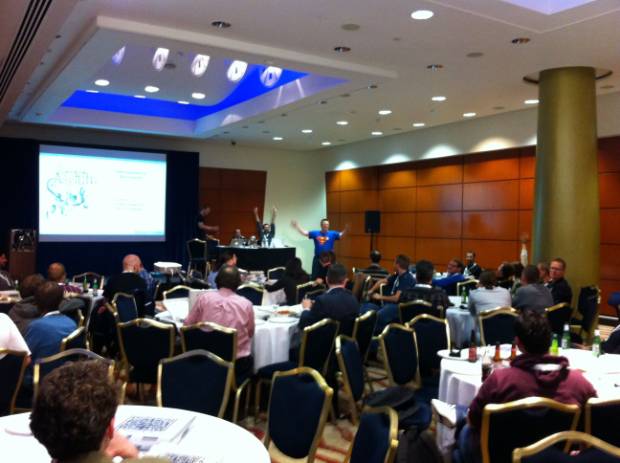 On the second day I opened JAX London with the first keynote, that went well. It was about Middleware everywhere, making some of the same points from my JBoss World keynote but with less of a JBoss flavour. One thing I did notice this time though was that the audience seemed a lot younger so terms such as "pong", "floppy disk" and "6502 processor" met with some wonder and surprise. I'm getting old(er).
Anyway, overall I think JUDCon London was a success and I look forward to doing the European JUDCon again next year. I'm not sure where we'll do it, or if we'll tweak the format, but this one will be a hard act to follow. In the meantime we're working on the next JUDCon, which hopefully won't be too far off!