I created this Temperature Converter sample project in Eclipse.  My container is JBoss 6.0.  I was able to test the project in Maven command line successfully using
mvn clean test -Pjbossas-remote-6 -Darquillian.launch=jbossas-remote-6
However, I am getting the "Could not read container configuration: null" exception when I run the test in Eclipse JUnit.
I have followed this page (https://docs.jboss.org/author/display/ARQ/Setting+up+and+running+the+test+in+Eclipse) to set the project's active
maven profile to "jbossas-remote-6", but still no help.  Any suggestion or pointer is greatly appreciated.  I have been struggling with this for weeks and it is only the very first chapter of the EJB book. Many Thanks!
I notices that this stack trace is the same as the exception thrown if I call "mvn clean test" without providing the "-Pjbossas-remote-6 -Darquillian.launch=jbossas-remote-6" option in maven cmd line.  Do I need to setup other paremters/options in Junit?
java.lang.RuntimeException: Could not create and startup manager
at org.jboss.arquillian.impl.core.ManagerImpl.<init>(ManagerImpl.java:95)
at org.jboss.arquillian.impl.core.ManagerBuilder.create(ManagerBuilder.java:74)
at org.jboss.arquillian.impl.DeployableTestBuilder.build(DeployableTestBuilder.java:97)
at org.jboss.arquillian.impl.DeployableTestBuilder.build(DeployableTestBuilder.java:67)
at org.jboss.arquillian.junit.Arquillian.<init>(Arquillian.java:82)
at sun.reflect.NativeConstructorAccessorImpl.newInstance0(Native Method)
at sun.reflect.NativeConstructorAccessorImpl.newInstance(NativeConstructorAccessorImpl.java:39)
at sun.reflect.DelegatingConstructorAccessorImpl.newInstance(DelegatingConstructorAccessorImpl.java:27)
at java.lang.reflect.Constructor.newInstance(Constructor.java:513)
at org.junit.internal.builders.AnnotatedBuilder.buildRunner(AnnotatedBuilder.java:31)
at org.junit.internal.builders.AnnotatedBuilder.runnerForClass(AnnotatedBuilder.java:24)
at org.junit.runners.model.RunnerBuilder.safeRunnerForClass(RunnerBuilder.java:57)
at org.junit.internal.builders.AllDefaultPossibilitiesBuilder.runnerForClass(AllDefaultPossibilitiesBuilder.java:29)
at org.junit.runners.model.RunnerBuilder.safeRunnerForClass(RunnerBuilder.java:57)
at org.junit.internal.requests.ClassRequest.getRunner(ClassRequest.java:24)
at org.eclipse.jdt.internal.junit4.runner.JUnit4TestReference.<init>(JUnit4TestReference.java:32)
at org.eclipse.jdt.internal.junit4.runner.JUnit4TestClassReference.<init>(JUnit4TestClassReference.java:25)
at org.eclipse.jdt.internal.junit4.runner.JUnit4TestLoader.createTest(JUnit4TestLoader.java:41)
at org.eclipse.jdt.internal.junit4.runner.JUnit4TestLoader.loadTests(JUnit4TestLoader.java:31)
at org.eclipse.jdt.internal.junit.runner.RemoteTestRunner.runTests(RemoteTestRunner.java:452)
at org.eclipse.jdt.internal.junit.runner.RemoteTestRunner.runTests(RemoteTestRunner.java:683)
at org.eclipse.jdt.internal.junit.runner.RemoteTestRunner.run(RemoteTestRunner.java:390)
at org.eclipse.jdt.internal.junit.runner.RemoteTestRunner.main(RemoteTestRunner.java:197)
Caused by: org.jboss.arquillian.impl.domain.ContainerCreationException: Could not create Container jbossas-remote-6
at org.jboss.arquillian.impl.domain.ContainerRegistry.create(ContainerRegistry.java:78)
at org.jboss.arquillian.impl.client.container.ContainerRegistryCreator.createRegistry(ContainerRegistryCreator.java:67)
at sun.reflect.NativeMethodAccessorImpl.invoke0(Native Method)
at sun.reflect.NativeMethodAccessorImpl.invoke(NativeMethodAccessorImpl.java:39)
at sun.reflect.DelegatingMethodAccessorImpl.invoke(DelegatingMethodAccessorImpl.java:25)
at java.lang.reflect.Method.invoke(Method.java:597)
at org.jboss.arquillian.impl.core.ObserverImpl.invoke(ObserverImpl.java:90)
at org.jboss.arquillian.impl.core.EventContextImpl.invokeObservers(EventContextImpl.java:98)
at org.jboss.arquillian.impl.core.EventContextImpl.proceed(EventContextImpl.java:80)
at org.jboss.arquillian.impl.core.ManagerImpl.fire(ManagerImpl.java:126)
at org.jboss.arquillian.impl.core.ManagerImpl.fire(ManagerImpl.java:106)
at org.jboss.arquillian.impl.core.ManagerImpl.bindAndFire(ManagerImpl.java:221)
at org.jboss.arquillian.impl.core.InstanceImpl.set(InstanceImpl.java:74)
at org.jboss.arquillian.impl.bootstrap.ConfigurationRegistrar.loadConfiguration(ConfigurationRegistrar.java:58)
at sun.reflect.NativeMethodAccessorImpl.invoke0(Native Method)
at sun.reflect.NativeMethodAccessorImpl.invoke(NativeMethodAccessorImpl.java:39)
at sun.reflect.DelegatingMethodAccessorImpl.invoke(DelegatingMethodAccessorImpl.java:25)
at java.lang.reflect.Method.invoke(Method.java:597)
at org.jboss.arquillian.impl.core.ObserverImpl.invoke(ObserverImpl.java:90)
at org.jboss.arquillian.impl.core.EventContextImpl.invokeObservers(EventContextImpl.java:98)
at org.jboss.arquillian.impl.core.EventContextImpl.proceed(EventContextImpl.java:80)
at org.jboss.arquillian.impl.core.ManagerImpl.fire(ManagerImpl.java:126)
at org.jboss.arquillian.impl.core.ManagerImpl.fire(ManagerImpl.java:106)
at org.jboss.arquillian.impl.core.ManagerImpl.<init>(ManagerImpl.java:91)
... 22 more
Caused by: java.lang.IllegalStateException: No implementation found for org.jboss.arquillian.spi.client.container.DeployableContainer, please check your classpath
at org.jboss.arquillian.impl.DynamicServiceLoader.verifyOnlyOneOrSameImplementation(DynamicServiceLoader.java:134)
at org.jboss.arquillian.impl.DynamicServiceLoader.onlyOne(DynamicServiceLoader.java:92)
at org.jboss.arquillian.impl.domain.ContainerRegistry.create(ContainerRegistry.java:69)
... 45 more
Here is a screenshot of the project in Eclipse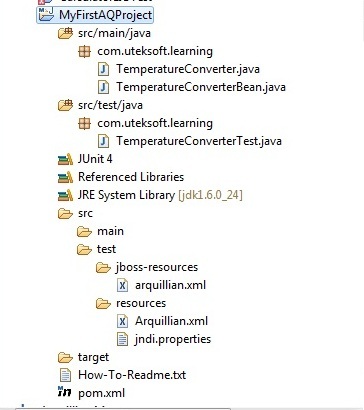 Here is the jndi.properties
java.naming.factory.initial= org.jnp.interfaces.NamingContextFactory  
java.naming.factory.url.pkgs=org.jboss.naming:org.jnp.interfaces   
java.naming.provider.url=jnp://127.0.0.1:1099





Here is the Arquillian.xml
<?xml version="1.0" encoding="UTF-8"?>
<arquillian xmlns="http://jboss.com/arquillian" xmlns:xsi="http://www.w3.org/2001/XMLSchema-instance"
xsi:schemaLocation="
    http://jboss.org/schema/arquillian
    http://jboss.org/schema/arquillian/arquillian-1.0.xsd">
  <container qualifier="jbossas-remote-6" default="true">
  <configuration>
    <property name="providerUrl">jnp://127.0.0.1:1099</property>
  </configuration>
  <protocol type="Servlet 3.0">
   <property name="host">127.0.0.1</property>
   <property name="port">8080</property>
  </protocol>
 </container>
   

And here is the POM.xml
<project xmlns="http://maven.apache.org/POM/4.0.0" xmlns:xsi="http://www.w3.org/2001/XMLSchema-instance"
xsi:schemaLocation="http://maven.apache.org/POM/4.0.0 http://maven.apache.org/xsd/maven-4.0.0.xsd">
<modelVersion>4.0.0</modelVersion>
<groupId>MyFirstAQProject</groupId>
<artifactId>MyFirstAQProject</artifactId>
<version>1.0-SNAPSHOT</version>
<packaging>jar</packaging>
<name>MyFirstAQProject</name>
<url>http://maven.apache.org</url>
<properties>
<project.build.sourceEncoding>UTF-8</project.build.sourceEncoding>
<arquillian.version>1.0.0.Alpha5</arquillian.version>
</properties>
<pluginRepositories>
<pluginRepository>
<id>jboss-public-repository-group</id>
<name>JBoss Public Repository Group</name>
<url>http://repository.jboss.org/nexus/content/groups/public/</url>
<layout>default</layout>
</pluginRepository>
</pluginRepositories>

<build>
<plugins> 
<plugin>
<artifactId>maven-compiler-plugin</artifactId>
<configuration>
<source>1.6</source>
<target>1.6</target>
</configuration>
</plugin>
</plugins>
</build>

<dependencies>
<dependency>
<groupId>javax.ejb</groupId>
<artifactId>ejb-api</artifactId>
<version>3.0</version>
<optional>false</optional>
</dependency> 
<dependency>
<groupId>javax.enterprise</groupId>
<artifactId>cdi-api</artifactId>
<version>1.0-SP1</version>
<optional>false</optional>
</dependency>
<dependency>
<groupId>org.jboss.arquillian</groupId>
<artifactId>arquillian-junit</artifactId>
<version>${arquillian.version}</version>
<scope>test</scope>
<optional>false</optional>
</dependency>
<dependency>
<groupId>org.jboss.shrinkwrap.descriptors</groupId>
<artifactId>shrinkwrap-descriptors-api</artifactId>
<version>0.1.4</version>
<scope>test</scope>
<optional>false</optional>
</dependency>
<dependency>
<groupId>junit</groupId>
<artifactId>junit</artifactId>
<version>4.8.1</version>
<scope>test</scope>
<optional>false</optional>
</dependency>
</dependencies>

<profiles>
<profile>
<id>jbossas-remote-6</id>
<dependencies>
<dependency>
<groupId>org.jboss.arquillian.container</groupId>
<artifactId>arquillian-jbossas-remote-6</artifactId>
<version>${arquillian.version}</version>
<scope>test</scope>
</dependency>
<dependency>
<groupId>org.jboss.jbossas</groupId>
<artifactId>jboss-as-client</artifactId>
<version>6.0.0.Final</version>
<type>pom</type>
</dependency>
</dependencies>
</profile>
</profiles>

<repositories>
<!-- other repos here -->
<repository>
<id>jboss-public-repository-group</id>
<name>JBoss Public Repository Group</name>
<url>http://repository.jboss.org/nexus/content/groups/public/</url>
<layout>default</layout>
</repository>
<repository>
<releases>
<enabled>true</enabled>
</releases>
<snapshots>
<enabled>false</enabled>
</snapshots>
<id>jboss-central</id>
<name>JBoss Central</name>
<url>https://repository.jboss.org/nexus/content/repositories/central/</url>
<layout>default</layout>
</repository>
<repository>
<releases>
<enabled>true</enabled>
</releases>
<snapshots>
<enabled>false</enabled>
</snapshots>
<id>jboss-deprecated</id>
<name>JBoss Deprecated</name>
<url>https://repository.jboss.org/nexus/content/repositories/deprecated/</url>
<layout>default</layout>
</repository>
<repository>
<releases>
<enabled>true</enabled>
</releases>
<snapshots>
<enabled>false</enabled>
</snapshots>
<id>jboss-public</id>
<name>JBoss Public</name>
<url>https://repository.jboss.org/nexus/content/repositories/public-jboss/</url>
<layout>default</layout>
</repository>

</repositories>

</project>