Ok folks, feedback time again.
For SWITCHYARD-954, we've been talking about further fleshing out the button bars in the editor to accelerate development. Less click & drag from the palette and more hover, select, and go.
What follows are screen grabs of the button pad changes we're implementing.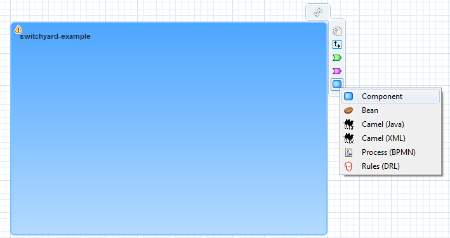 Here you'll note a few changes for the Composite button pad. Going around the button pad from top left to bottom right, we have: Update, Syncrhonize, Auto-Layout, Service, Reference, and Component (which has a cascading list). Based on feedback from Rob, the auto-layout icon went from a circular arrow to something hinting at moving things around (thus the arrows). Clicking the service, reference, or one of the component buttons does the same action as if you clicked, dragged, and dropped something from the palette onto the canvas - just with fewer motions of the mouse. New items are added to the top left or top right of the composite, which means you'll have to hit "Auto-Layout" to get things not to stack on top of each other or move them manually.
So in this case, I've created a new generic component and moved it where I want it on the Composite: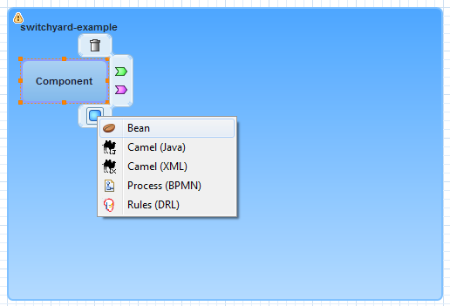 On the component, you notice that the button pad includes these buttons: Delete, Service, Reference, and Implementation (with a cascading selection of Implementation types). Again, clicking any of these behaves the same way as though you clicked on something in the palette and dropped it on the Component.
Now I'll select the Bean implementation and that will leave me with this: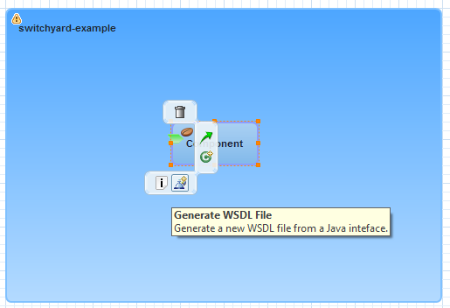 On the component service that was created, we see a few other buttons on the button pad: Delete, Promote, New Service Test Class, Generate WSDL File, and Edit Interface. All of these work the same way they have in the past, though Edit Interface allows you to either update the existing one or change it to a different interface type entirely.

Now I'll promote the service so we can look at the composite-level service button bar.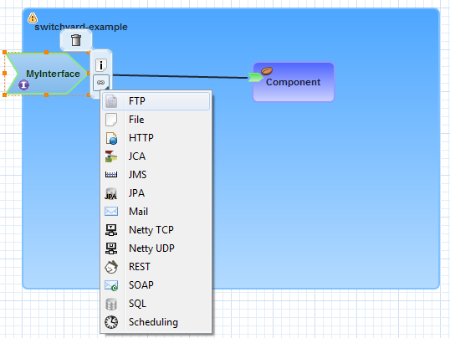 Here, we can Delete, Edit the interface, or add a new Binding to the service from the button pad.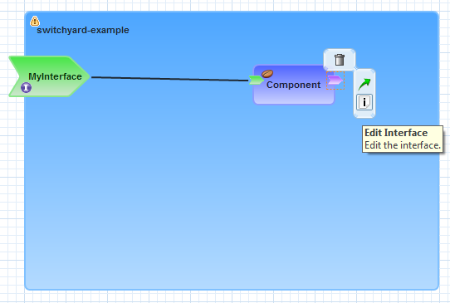 If I create a component reference, I see a similar set of options to what we saw on the component service, but limited to Promote and Edit Interface.
And the promoted reference looks exactly the same as the composite service did: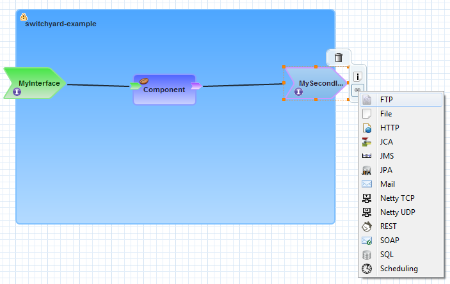 Long story short, what do you think?