Having this problem with the ALpha2 bits - and the eclipse tooling:
Steps followed:
1) Install WildFly 8.0 (wildfly-8.0.0.Final.zip)
2) Install SwitchYard 3.0 over WildFly (switchyard-2.0.0.Alpha1-wildfly.zip)
3) Verify that SwitchYard quickstarts can be built cleanly (mvn clean install) from CLI (see attached settings.xml) - successful!
4) Install eclipse Kepler (eclipse-jee-kepler-M7-linux-gtk-x86_64.tar.gz)
5) Install JBoss Tools from eclipse Marketplace
6) Install SwitchYard 2.0 Alpha tooling (http://download.jboss.org/jbosstools/updates/development/kepler/integration-stack/switchyard/2.0.0.Alpha1/)
7) Define installed WildFly 8.0 as runtime in eclipse
Subsequent attempts to create new SwitchYard project in eclipse fail - see attached screenshots - cannot find SwitchYard in the configured maven repo's - the contents of settings.xml are included below
Am I missing something basic here? Many thanks!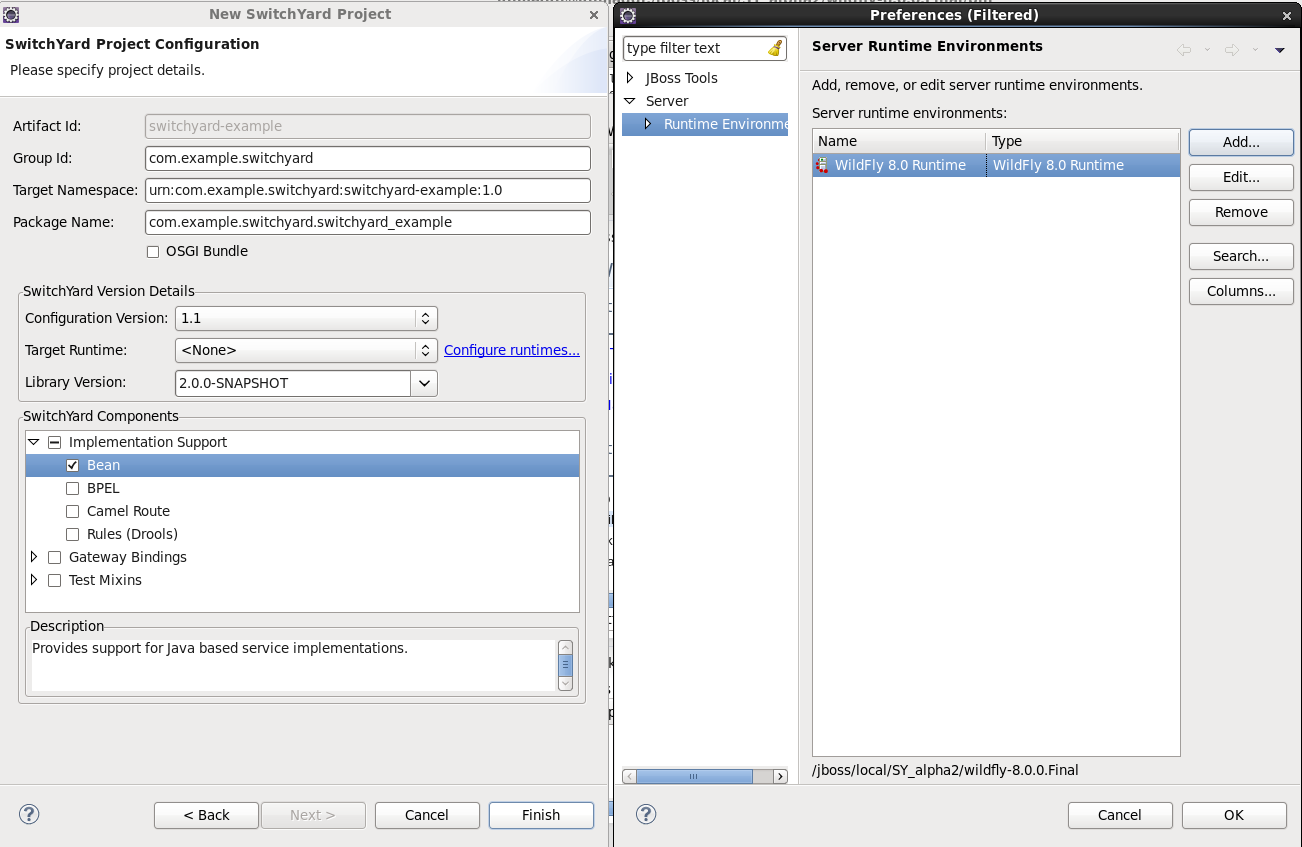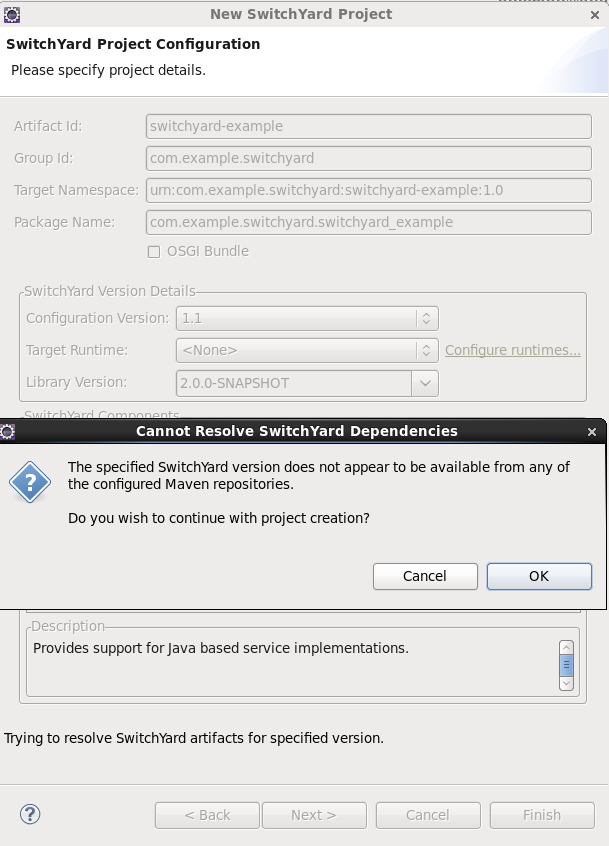 <?xml version="1.0" encoding="UTF-8"?>
   <settings xmlns="http://maven.apache.org/SETTINGS/1.0.0"
          xmlns:xsi="http://www.w3.org/2001/XMLSchema-instance"
          xsi:schemaLocation="http://maven.apache.org/SETTINGS/1.0.0 http://maven.apache.org/xsd/settings-1.0.0.xsd">
  <profiles>
    <!-- JBoss Early Access -->
    <profile>
      <id>jboss-earlyaccess-repository</id>
      <repositories>
        <repository>
          <id>jboss-earlyaccess-repository</id>
          <url>http://maven.repository.redhat.com/earlyaccess/all/</url>
          <releases>
            <enabled>true</enabled>
          </releases>
          <snapshots>
            <enabled>false</enabled>
          </snapshots>
        </repository>
      </repositories>
      <pluginRepositories>
        <pluginRepository>
          <id>jboss-earlyaccess-plugin-repository</id>
          <url>http://maven.repository.redhat.com/earlyaccess/all/</url>
          <releases>
            <enabled>true</enabled>
          </releases>
          <snapshots>
            <enabled>false</enabled>
          </snapshots>
        </pluginRepository>
      </pluginRepositories>
    </profile>
      <!-- JBoss Techpreview -->
      <profile>
          <id>redhat-techpreview-all-repository</id>
          <repositories>
              <repository>
                  <id>redhat-techpreview-all-repository</id>
                  <name>Red Hat Tech Preview repository (all)</name>
                  <url>http://maven.repository.redhat.com/techpreview/all/</url>
                  <layout>default</layout>
                  <releases>
                      <enabled>true</enabled>
                      <updatePolicy>never</updatePolicy>
                  </releases>
                  <snapshots>
                      <enabled>false</enabled>
                      <updatePolicy>never</updatePolicy>
                  </snapshots>
              </repository>
          </repositories>
          <pluginRepositories>
              <pluginRepository>
                  <id>redhat-techpreview-all-repository</id>
                  <name>Red Hat Tech Preview repository (all)</name>
                  <url>http://maven.repository.redhat.com/techpreview/all/</url>
                  <layout>default</layout>
                  <releases>
                      <enabled>true</enabled>
                      <updatePolicy>never</updatePolicy>
                  </releases>
                  <snapshots>
                      <enabled>false</enabled>
                      <updatePolicy>never</updatePolicy>
                  </snapshots>
              </pluginRepository>
          </pluginRepositories>
      </profile>
   <!-- JBoss Repos -->
   <profile>
    <id>jboss-maven-repos</id>
    <repositories>
      <repository>
        <id>jboss-releases</id>
        <url>https://repository.jboss.org/nexus/content/repositories/releases</url>
        <releases><enabled>true</enabled></releases> <!-- Default: true -->
      </repository>
      <repository>
        <id>jboss-snapshots-repository</id>
        <url>https://repository.jboss.org/nexus/content/repositories/snapshots/</url>
        <snapshots><enabled>true</enabled></snapshots> <!-- Default: false -->
      </repository>
      <repository>
        <id>jbosstools-experiments</id>
        <url>https://repository.jboss.org/nexus/content/repositories/jbosstools-experiments/</url>
        <releases><enabled>true</enabled></releases> <!-- Default: true -->
        <snapshots><enabled>true</enabled></snapshots> <!-- Default: true -->
      </repository> 
     <repository>
       <id>m2e</id>
       <layout>p2</layout>
       <url>http://download.eclipse.org/technology/m2e/milestones/1.5</url>
    </repository>
    </repositories>
  </profile>
  </profiles>
  <activeProfiles>
     <activeProfile>redhat-techpreview-all-repository</activeProfile>
     <activeProfile>jboss-maven-repos</activeProfile> 
     <activeProfile>jboss-earlyaccess-repository</activeProfile>
  </activeProfiles>
</settings>