Hi,
Creating separate discussion thread.
Recently, observed high CPU utilization and when thread dump is analyzed, found around 1800 HornetQ live threads. Not sure if this is expected behavior.
Are HornetQ threads contributing High CPU usage ?
Here are more details
Server : JBoss AS 7.2.0 Final
HornetQ version : 2.3.0.CR1
JDK version : 1.7u67
Summary of thread dump analysis is :
GC threads are consuming most of the CPU

Almost all generations [EDEN, young and Permgen] are full

Around 1800 HornetQ threads are in parking state

hornetq-failure-check-thread is in BLOCKED state.
Here is HornetQ Thread distribution from Thread dump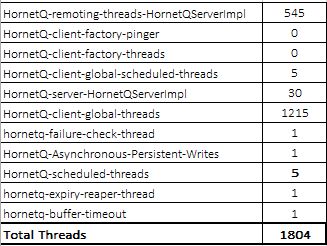 Server configuration is :

<hornetq-server>
                <persistence-enabled>true</persistence-enabled>
                <security-enabled>false</security-enabled>
                <journal-file-size>102400</journal-file-size>
                <journal-min-files>2</journal-min-files>
                <connectors>
                    <netty-connector name="netty" socket-binding="messaging"/>
                    <netty-connector name="netty-throughput" socket-binding="messaging-throughput">
                        <param key="batch-delay" value="50"/>
                    </netty-connector>
                    <in-vm-connector name="in-vm" server-id="0"/>
                </connectors>
                <acceptors>
                    <netty-acceptor name="netty" socket-binding="messaging"/>
                    <netty-acceptor name="netty-throughput" socket-binding="messaging-throughput">
                        <param key="batch-delay" value="50"/>
                        <param key="direct-deliver" value="false"/>
                    </netty-acceptor>
                    <in-vm-acceptor name="in-vm" server-id="0"/>
                </acceptors>
                <security-settings>
                    <security-setting match="#">
                        <permission type="send" roles="guest"/>
                        <permission type="consume" roles="guest"/>
                        <permission type="createNonDurableQueue" roles="guest"/>
                        <permission type="deleteNonDurableQueue" roles="guest"/>
                    </security-setting>
                </security-settings>
                <address-settings>
                    <address-setting match="#">
                        <dead-letter-address>jms.queue.DLQ</dead-letter-address>
                        <expiry-address>jms.queue.ExpiryQueue</expiry-address>
                        <redelivery-delay>0</redelivery-delay>
                        <max-size-bytes>10485760</max-size-bytes>
                        <address-full-policy>BLOCK</address-full-policy>
                        <message-counter-history-day-limit>10</message-counter-history-day-limit>
                    </address-setting>
                </address-settings>
                <jms-connection-factories>
                    <connection-factory name="InVmConnectionFactory">
                        <connectors>
                            <connector-ref connector-name="in-vm"/>
                        </connectors>
                        <entries>
                            <entry name="java:/ConnectionFactory"/>
                        </entries>
                        <connection-ttl>-1</connection-ttl>
                    </connection-factory>
                    <connection-factory name="RemoteConnectionFactory">
                        <connectors>
                            <connector-ref connector-name="netty"/>
                        </connectors>
                        <entries>
                            <entry name="java:/RemoteConnectionFactory"/>
                            <entry name="java:jboss/exported/jms/RemoteConnectionFactory"/>
                        </entries>
                    </connection-factory>
                    <pooled-connection-factory name="hornetq-ra">
                        <transaction mode="local"/>
                        <connectors>
                            <connector-ref connector-name="in-vm"/>
                        </connectors>
                        <entries>
                            <entry name="java:/JmsXA"/>
                        </entries>
                    </pooled-connection-factory>
                </jms-connection-factories>