Good afternoon, I am having trouble with mod_cluster and mod_advertise.
I have a cluster of 16 virtual machines running JBoss AS7 and they are registered to a mod_cluster load balancer.
This seemed to be working pretty fine. Until when we started a new project and had to allocate another cluster of 4 servers for a new application. This new application is running in machines that share the same network IP address range...
XXX.XXX.XXX.1
XXX.XXX.XXX.2
XXX.XXX.XXX.3
XXX.XXX.XXX.4
XXX.XXX.XXX.5 -> For example, this IP is not mine, since we are in a public cloud I have no control over the allocation of IP to my servers. Will this machine receive messages from my cluster also? For example, if somebody installs a mod_cluster in this machine they will be able to see my servers? And even worse, will they be able to direct calls to my machines through any other application contexts that they might have there?
...
XXX.XXX.XXX.32
==== Here ends my public IP range ===
XXX.XXX.XXX.XXX
When we bootstrap both clusters we are seeing servers from Application 1 in mod-cluster-manager of cluster 2 and vice-versa. I was reading about this and figured that this could be related to the multicast address that is used by jboss to register its presence within mod_cluster / mod_avertise. Is that correct? (Setting multiple mod_cluster load balancers in clustering environment - JBoss AS 7.1 - Project Documentation Editor)
This started to scare me, because those servers are in a public cloud. Meaning they have valid public IP addresses. Does that mean that JBoss is trying to broadcast messages to all other IPs that are within the IP range? This means that I am sending requests to register servers to other machines even to the ones that are in the same IP range but do not belong to my cluster?
I dont know if I am explaining my problem correctly, but I just dont understand how to set this up properly.
Basically here is what I want to get: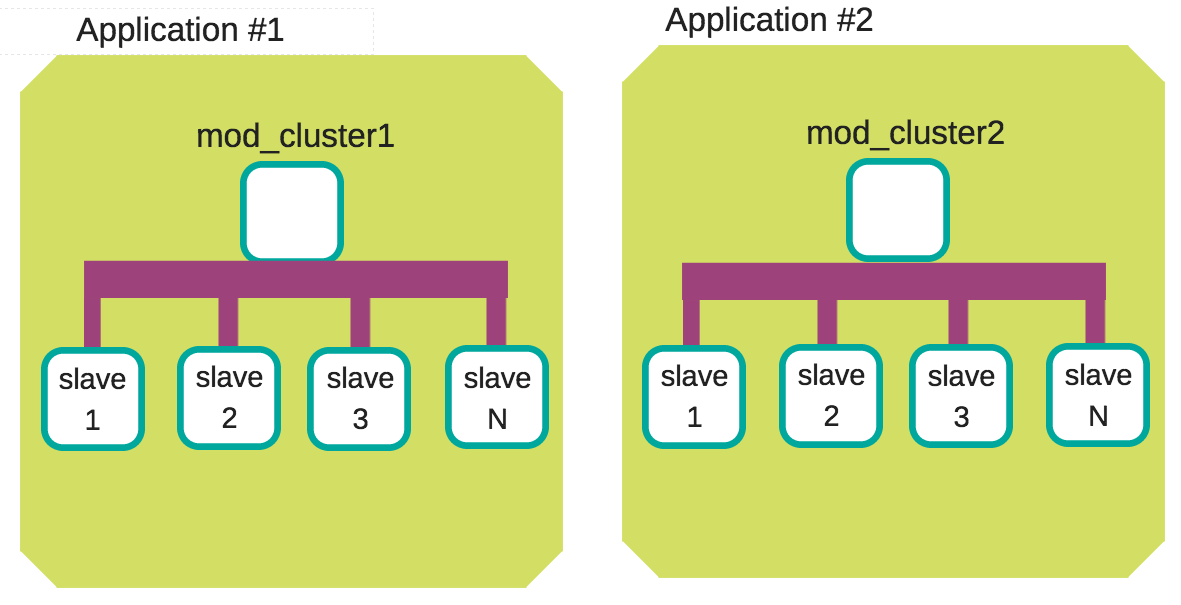 But since I am using the same multicast address because this is the one that comes setup by default in JBoss domain.xml this is what I am getting: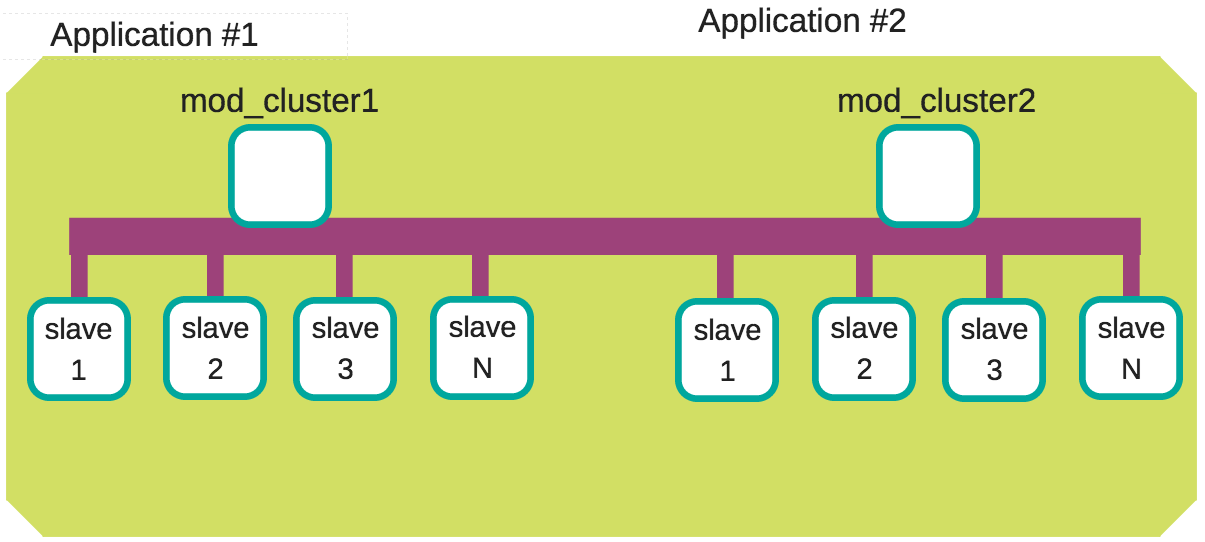 Here is how domain.xml comes by default:
            <socket-binding name="modcluster" port="0" multicast-address="224.0.1.105" multicast-port="23364"/>
And whenever I try to change this multicast-address to let`s say: 224.0.1.106. The mod-cluster-manager keeps seeing all the servers that I have mention in the picture.
So in conclusion, I dont really know where to change the multicast-address and if that is the correct way to achieve what I need.
Regards,