First Impressions
I have attended multiple SAP techEd and d-code conferences over the years, but this was my first Sapphire. As anticipated, it was a different perspective in terms of audience. At techEd and d-code, most are developers with an in-depth knowledge SAP ABAP, development, data integration, open standards and other technical topics. At Sapphire, the average attendee was more business-minded, but many came from a technical background. There were many architects and product managers for example.
My previous webinars and talks on SAP integration with Red Hat JBoss Middleware were all heavily slanted towards the technical details. This time around I had talks discussing our Data Virtualization integration with SAP HANA. The fact that my session was devoid of the technical overtones from previous presentations, gave me the chance to appeal to the business case for our Data Virtualization solution for SAP HANA. I was able to take the time to discuss the issues with enterprise data management, the weaknesses of existing integration technologies, and where Red Hat JBoss Data Virtualization fills the gaps. I then followed the discussion with a drag-and-drop demo that federated data from SAP HANA and a MySql instance in Teiid Designer, the tooling for Data Virtualization. The talk and demo was well-received. I think explaining enterprise data needs, why current solutions fall short and how data virtualization can do what no other technology can to fulfill real-time data federation requirements was a huge eye-opener. Some expressed how they had no idea this technology was even available and the many man-hours it will save. This conference has given me a new perspective. I may re-purpose this presentation for a future, more technical conference. Developers will certainly appreciate the business value as well as the technical value of Data Virtualization.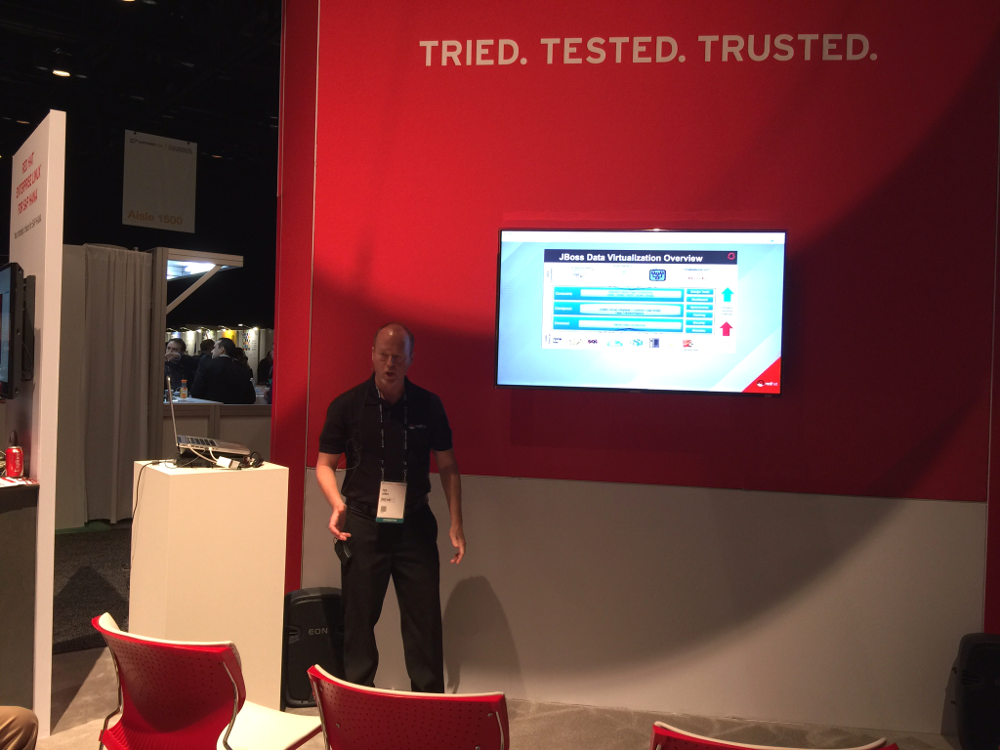 Takeways
Every time I attend a conference and pull booth-duty, I learn so much from my colleagues regarding other Red Hat products. This time I got a full serving of GSS (Global Support Services) knowledge and fully understand why we have the best customer support organization in the industry. We never rest on our laurels and are always looking at ways to improve and grow. Not only are we the most compelling and cost-effective technical option with our full stack of solutions, we ice the cake with our best-in-class services and support.
Not to be lost in all my Red Hat cheerleading (sorry.. just calling it like I see it), is the fact that our partnership with SAP is stronger than it has ever been. I have been working with my SAP colleagues for so long, it feels like we are one big company. The value of an SAP plus Red Hat integration strategy in the enterprise is as compelling as it is due to a level of cooperation and synergy seldom seen in technology today. The benefactors are our customers whom are reaping the rewards through cost-savings, efficiencies, and productivity never realized before.
Please feel free to reach out to me if you have any questions about our SAP integration solutions with Red Hat JBoss Middleware and follow me on twitter @jonested. I look forward to SAP d-code in November where we have big plans for unveiling more collaboration between SAP and Red Hat. Hope to see you there!