A few weeks ago I have the privilege of giving the keynote at OpenSlava 2014. Rather than talk about JBoss or Red Hat technologies/projects I decided to try something new and talk about how open source has impacted our lives over the past few decades. Most of us take this stuff for granted and I know that's definitely the case for me: having lived through all of it and helped participate in some of it, I found pulling together the presentation both enjoyable and a reminder. I hope to get the opportunity to give the presentation again as I've already thought of a few other things I'd like to add to it and also get more audience participation. Hopefully those people at OpenSlava got as much out of it as I did writing it.
The video of the presentation is available online and linked earlier. The actual presentation is also available. However, for those who can't watch the video I thought I'd include a few of the slides. We all know about Linux and the huge impact it has had on the software industry since it started over twenty years ago: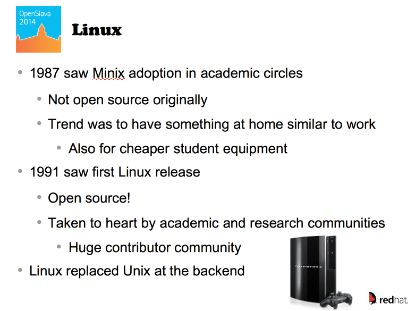 Not only was it also used within the PS3 but it's the basis of Android, a fact many of those phone users don't know. Then of course we have to remember the role open source played in creating the Web: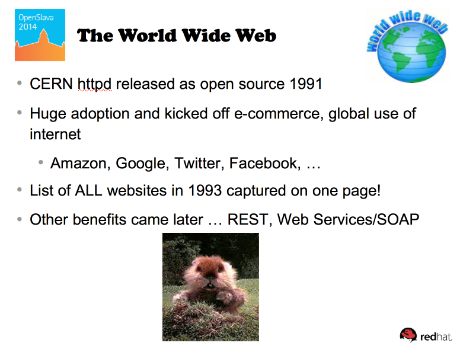 And for those in the audience who didn't know, the gopher is from Caddyshack! Of course we talk about the Web and implicitly believe we all understand what "it" means and has become. I thought this image of the connectivity map for the Web helped bring it and hence the impact open source has had on our lives, to life: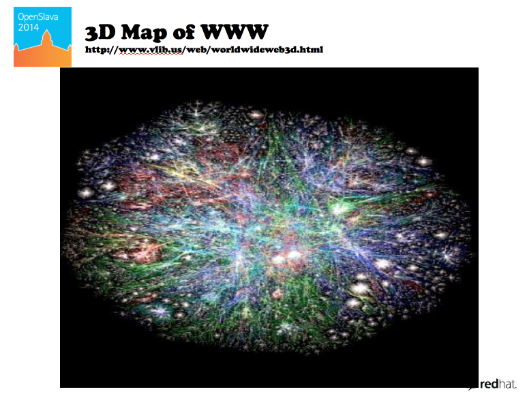 Of course Java, not open source originally, has had its own significant impact on the software industry. I like to think that JBoss/Red Hat have played an important role in that journey too. But as this slide shows, it's also had an impact outside of our industry including an important one for many kids: Minecraft. I've seen children teach themselves all about Java, jars, manifest files etc. just so they can create mods for Minecraft and exchange them with their friends! I'm not sure any other language could have had quite that impact without open source!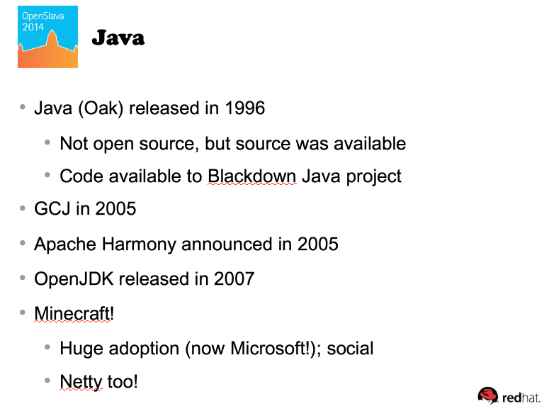 I've already touched on how open source is helping to drive mobile, and in the presentation I also mentioned cloud. Of course there's also Big Data and NoSQL, which are most definitely being driven by open source first and foremost. So over the years where open source was the follower, now it is the leader.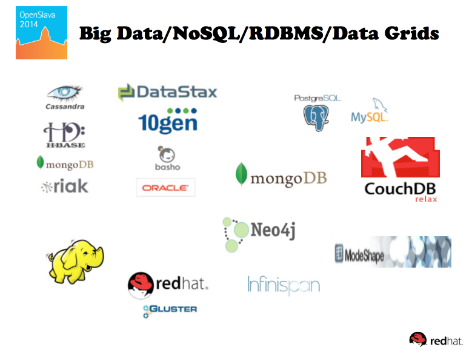 As I concluded in the presentation, open source is no longer a second-class citizen, the domain of some developers working "on the edge". It's often the first line of attack to a problem and has become accepted by many users and developers. Where we take it now is no longer constrained by hurdles such as persuading people open source is a viable alternative (often there is no alternative). Now the limitations are our imagination and determination to make open source solutions work!