November was an exciting month for technology, with JUDcon London, Java2Days in Sofia, WJAX in Munich, and Devoxx in Antwerp. I don't think I've been to more conferences in a row in my life. It's time for a break! Holidays, here I come.
First up: Java2Dayyyyys!!!
I had originally declined the Java2Days conference, but I'm glad I changed my mind! This was truly an exciting, well planned, and interesting conference. I hope to be able to return next year. How could I pass up a welcome like this?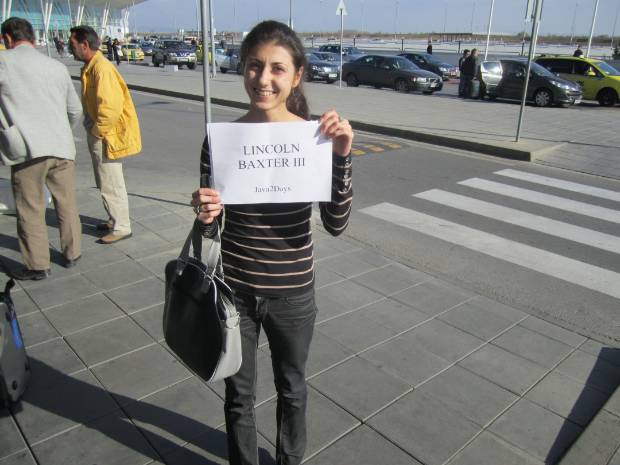 Yoana (Conference Organizer)
Java2Days was an incredibly balanced conference, with a strong showing on Java EE, and also many other mobile and HTML5 oriented tools/frameworks. I was actually very pleased with how interested people were to hear Andrew Rubinger's "AS7 - Death of the Slow," "Arquillian: Real Life Enterprise Testing" talks, and my talks on "Beautiful Java EE: URL-rewriting for the next-generation web-user," and "Forging new ground in Enterprise Application Development."
The hospitality in Bulgaria was out of this world, and it seemed that every large meal turned into a dance. No complaints! We also met up with Ivan St. Ivanov who we'd originally met at Devoxx the year prior (2010.) Consequently, we also met up with him again at Devoxx 2011 a few weeks later!
Next stop - Paris!
Andrew and I stayed with Seam Contributor Antoine Sabot-Durand (Seam Social Module Lead) over the weekend between events, and got a first-class tour of the pantheon and other historic Parisean destinations. After a stop at the Eiffel Tower with Emmanuel Bernard and Antonio Goncalvez, (Antoine had to put the kids to bed,) we went out to a little restaurant near Notre Dame to finish off the evening.
Next up: Stuttgart JUG
Andrew and I said farewell to our counterparts in Paris, but met up with the usual crew in Stuttgart. Dan Allen and our host Heiko Rupp. We had actually missed our train in the morning, and had to book a new train a few hours later. This didn't stop us from making it to the JUG just in time to see Dan finishing up the first presentation of the evening - perfect timing.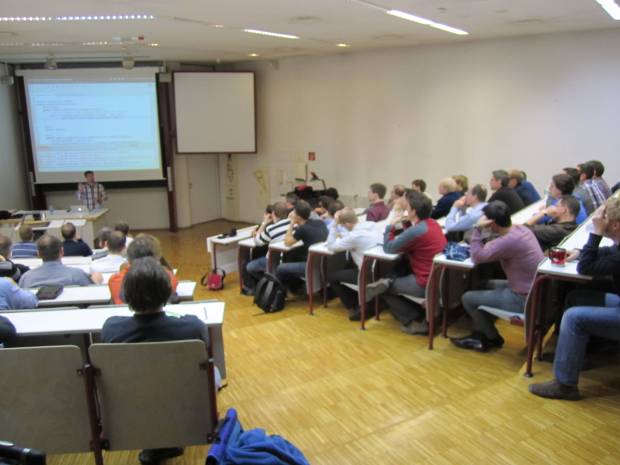 It was a triple threat at the JUG monday night, with Arquillian, Forge, and AS7 performing one after another after another. Notice the Red Hat mug on the table - we didn't ask him to bring that. To quote: "I just like it; It's a good mug." See? Red Hat means quality everywhere.
Die Autobahn
I don't think I really need to explain this too much...
W-JAX Munich
After surviving the Autobahn in our rented BMW convertible, we pulled up to the Westin Grand Arabella and checked in to a week of tech with JAX. First, I attended a talk by Christian Kaltepoth on "PrettyFaces: Restful URLs für JSF", which was in German, but since we both work on PrettyFaces together, I was able to understand most of his talk, particularly my favorite phrase of the session: "Nobody likes a mile-long URL."
This was my first time meeting Christian, but I must say I was even more impressed than I already was from working with him online. His talk went off without a hitch, and his demo went flawlessly. With great tools and great minds come great talks!
Next on the Agenda was our own session, with Dan, Andrew, and Myself all up on stage presenting the killer trio again:
Arquillian, Forge, and AS7. Forge was the star of this show, driving project creation, testing, and deployment to the best app-server you can buy (and it doens't cost anything.) This was our first time presenting all three of these projects together, but I must say that it went better than we could have expected. I'm very happy with the flow and content of this talk; I think we delivered more information than we've ever packed into an hour long session before, and in a way that is easy to understand and follow. I call this "The Forge Effect." (Our talk should be published on the JAX website at some point in the future, but we don't have it yet.)
I also attended Gavin King's Ceylon JVM Languge talk, which was very informative. He gave an overview of the complex steps it takes to create even the most basic language primitives, and additionally, how decisions made in that process have lasting and reaching rammifications for future of the language. Something as simple as "is Void an Object and how is that different from null?" Very interesting.
Last but not least, we attended Mark Struberg's CDI and Java EE tutorial, which was also in German, but he occasionally picked on us while we were sitting at the back of the room with Adam Bien. After this, a trip to the spa, and some food, we walked around Munich before it was time to catch our train to Antwerp.
Devoxx: Welcome to Paradise
While I don't necessarily think that the ratio of men to women at this conference would equate to paradise, I do thoroughly enjoy this conference every year! The layout is simply superb.
Hosted in a multi-plex movie theater, "the Metropolis" in Antwerp, there is plenty of space for the nearly 3500 attendees at this conference. Divided through 8 individual screens/auditoriums, each session generally attracts well over 400 people, which is an intense turnout for any Java speaker! Some talks max out at the room capacity of about 800.
We got to do a JBoss Asylum Podcast on JBoss Forge, and also got to include Paul Bakker, who has been very active on Forge, and an amazing contributor for both Forge core and also the Arquillian plugins.
I presented JBoss Forge with Dan Allen who ran the keyboard, Aslak presented Arquillian, again with Dan at the keyboard, and Andrew presented AS7 with Dan at the keyboard.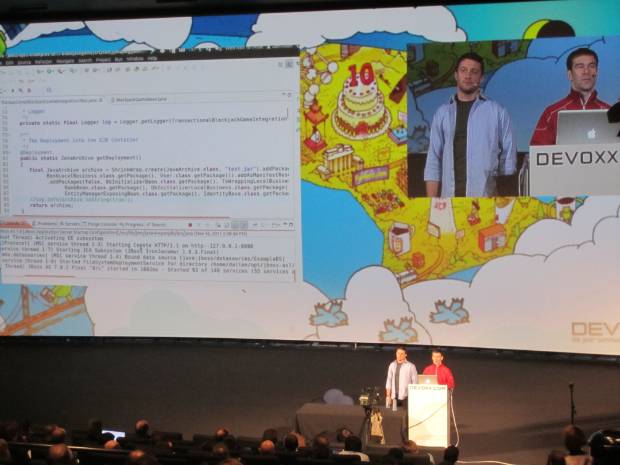 Emmanuel Bernard also presented Hibernate OGM, and unveiled the Ceylon website http://ceylon-lang.org on the last day of the conference, which was a real treat.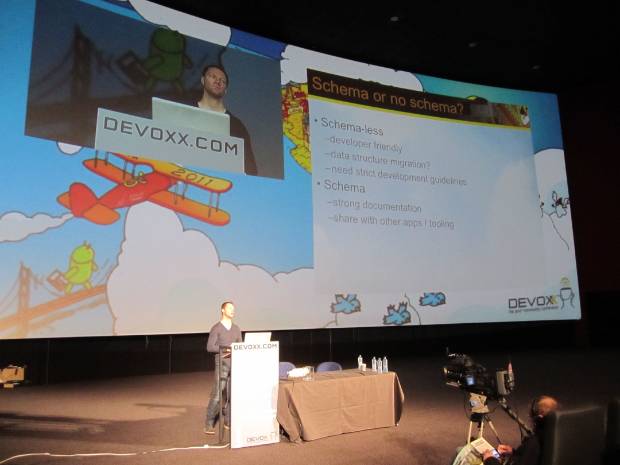 Overall, this was a great conference, and always a Belgian treat (so much good beer!) With Max Andersen, Sanne, Kabir Khan, Pete Muir, Manik Surtani, Koen Aers, and more! It was a great time as always, even had a little down time to embarass ourselves:
As always, thanks for reading, and we'll catch you at the next conferences, JBoss World is coming up soon! Don't hesitate to reach out with us and share your ideas! Please follow me on twitter @lincolnthree - and until then, see you next time!