Perhaps the biggest news of the week is Hibernate's new website. Hibernate continues to be one JBoss' all-time favorite OSS projects, while many of you know it for its ORM capabilities, perhaps you did not know about Search, Validator or OGM.   The new website organizes the content in a way that allows newbies to more easily get started while also allowing experts to more quickly navigate to their area of interest.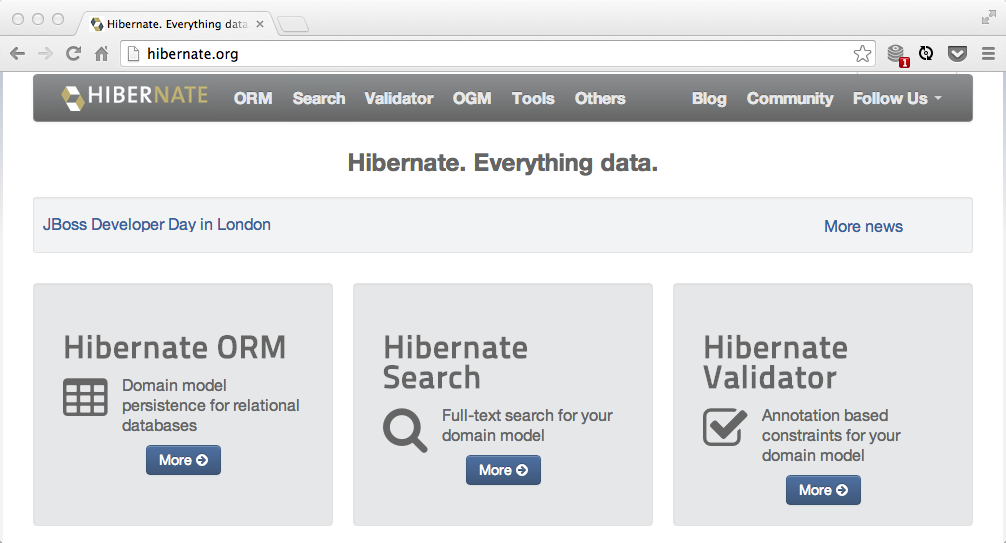 And Hibernate ORM 4.2.8.Final has arrived and 4.3.0.CR2 has as well.
News:
* Salaboy will be giving a Drools & jBPM Workshop in Barcelona on the 10th of Dec
Perhaps you can convince the boss to pay for the trip - to improve your Spanish and BPMN2 skills
* Mark Little's recent visit to Lyon
I love the Richard Hamming quote - go check it out
* Arun Gupta will be heading off to JavaLand in Bruhl Germany, I wonder if a German-based themepark/programmer conference will include all sorts of fun references to Grimm's Fairy Tales characters? That could add some fun to the average coder presentation.
* Aerogear 0.9.0 of the UnifiedPush Server is now available
If you need to integrate APNS or GCM into your iPhone/iOS, Android Java, HTML5, Apache Cordova/Phonegap apps or simply your web apps you should check out Aerogear
I created a little video a couple of weeks ago of the Aerogear AeroDoc sample application showing cross-platform push notifications
* JBDS 7.1.0 and JBoss Tools 4.1.1 is almost here - check out the Candidate Release
* By the time you read this, Eric Schabell's session entitled What's New in the JBoss Integration & BPM World at the Open Source Conference Amsterdam 2013 will be likely be completed.
Make sure to hit up Eric on Twitter for a look at his slides and he does have numerous video recordings of many of his demos.
* Plugin Plugin? - Announcing RHQ Agent Plugin Plugin
A Maven plugin to help you create RHQ Agent plugins - if you wish to extend the RHQ real-time monitoring and management capabilities, well, you need a plugin and now plugins are even easier to create.
* TorqueBox 3 == TorqBox gets leaner and meaner - while the JBoss AS/Wildfly core is already damn skinny, this is going even thinner - and "TorqBox should outperform every other Ruby web server"!
* JBoss EAP 6.2 is here, check out Arun's blog describing the key enhancements
* Teiid 8.6 CR1 is now available for download
* IntelliJ 13 for Java EE 7 with Wildfly 8 - for those of you who love IntelliJ, please try out Java EE 7 and Wildfly and send us your feedback.
As always, the JBoss ecosystem continues to thrive and grow - making for many, many exciting events, announcements and releases.  It is a lot to keep up with so follow our This Week in JBoss blog for your weekly summaries.