Welcome to another week in JBoss. A little late (again); looks like we're still ramping up again and it takes a while to get back into the flow.
EAP 7 Is here!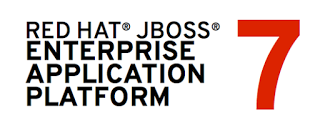 There are a few Open Source technologies and products that have spearheaded the drive of Open Source  into the enterprise and managed to overcome historical objections. Red Hat's JBoss EAP  (upstream WildFly , previously JBoss AS) is one of those pioneering technologies. The latest EAP 7 beta was launched this week and there is a lot of coverage around it. If you can't wait go ahead and read all about it and get the latest bits from jboss.org.
Hibernate Community Newsletter
Starting this year, we are hosting a series of articles focused on the Hibernate community. We share blog posts, forum and StackOverflow questions that are especially relevant to our users. The second edition of the newsletter went out this week.
Vert.x News
Vert.x Unit is a very elegant library to test asynchronous applications developed with vert.x. However because of this asynchronous aspect, reporting test failures is not natural for JUnit users. Learn how to overcome this with the latest blog about using Hamcrest Matchers with Vert.x Unit.
The expectations of users for interactivity with web applications have changed over the past few years. Users during bidding in auction no longer want to press the refresh button to check if the price has changed or the auction is over. This made bidding difficult and less fun. Instead, they expect to see the updates in application in real-time. Vert.x can help a lot and the other highlight blog-post of this week shows you how to implement a real-time bidding with Websockets and Vert.x.
New Releases
That's all for this week, please join us again for the next installment of the JBoss Editorial where we will endeavor to bring you more interesting articles written by members of the JBoss communities. And stay up to date with latest developments by following @jbossdeveloper on twitter.