Welcome to another 'Week in JBoss'. This week was dominated by the announcements of many DevNation talks (more on that later). Expect DevNation and Summit to be a common theme over the coming months as the JBoss teams prepare their projects and products for our primary annual conference. As usual you can catch all the buzz around JBoss here, but for now, on with the editorial!
DevNation 2016 is Coming!
This June (26-29) we'll be back in San Francisco for the third DevNation conference. As usual you can expect a developer-focused conference with lots of exciting tech demos & presentations. We're also planning some great social events and hands-on hack nights! Hop over to the DevNation site where registration is open.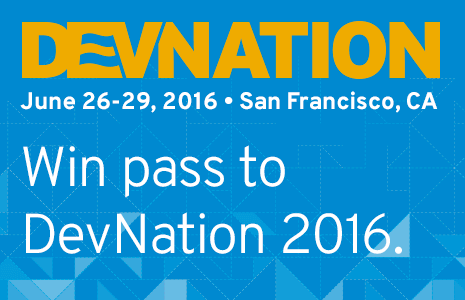 As usual there will be a strong representation from the JBoss team, with the following presentations announced this week:
Keep an eye out for more announcements an the full agenda on the DevNation site.
What's New in the World of BPM?
This week Kris Verlaenen attended the 'bpmNEXT 2016' conference and is (almost) live-blogging the whole experience. Catch the first four posts in his series: Part 1, Part 2, Part 3, Part 4. Stay tuned, maybe there will be some more?
New Releases!
No week at JBoss would be complete without a significant haul of new releases. Here's what we have for you this week: