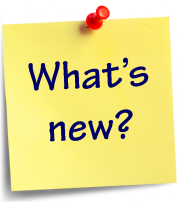 This week in JBoss we have a myriad of  news, events and project updates  for you.
The next time you are running around one of the Red Hat offices you might be interested to note that some of the hard work you put in on a JBoss community project does result in some pretty neat product demos. Case in point, a huge sign leading you to the latest bpmPaaS demo.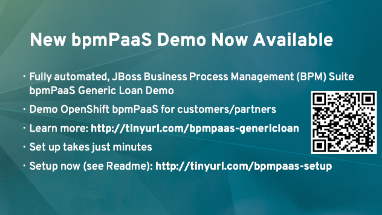 A fascinating discussion and musings around microservices is given by Mark Little over on Narayana. He follows that up with more thoughts on the future with an article on xPaaS, IoT, Fabric, and DevOps, and a short suggested reading list on transaction research.
Did you notice the new look of JBoss.org site? There has been some early goodness released so stay tuned as official announcements coming soon.
With that I want to introduce you to another developer...
Developer in the Wild
This week I wanted to introduce you to an interesting character that has almost single handedly brought resource planning out of the dark and into the JBoss light. His name is Geoffrey de Smet, he is the lead on OptaPlanner, he looks too young to be out of school yet, but don't let that fool you as he is a smart cookie.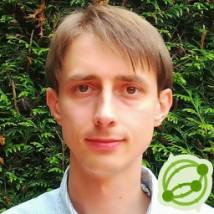 Events
Some of the events you might want to take part in are listed here.
Blogs / Articles
The following articles were collected for your enjoyment:
Infinispan team takes some time out to show you how to iterate over all the entries in your cache with this article.
A start to a series on making a NOSQL data store transactional with examples running on JBoss Wildfly.
Training materials have come available for Bean Validation 1.1, so get your beans on!
Looking to add on Batch Addon in JBoss Forge? Look no further as part III takes you towards your goal.
Our JBoss Technology Evangelist provides you with some help in determining the differences between PicketLink and Keycloak, following this with a look at gaining control of your data security with data virtualization. There was also more news around the details of the JBoss EAP 6.3 Beta release.
If you are interested in getting started with rules and processes with JBoss BRMS we now have a canned workshop that you can even spin up into your own OpenShift instance. Is that called a workshopPaaS? There is also a new Tips & Tricks article around the roles in JBoss BRMS / BPM Suite.
If you are interested in the Rasberry Pi and running managed domains with WildFly, you are in luck with this article.
Releases
This weeks list of new project releases, enjoy!