Well hopefully you don't need this blog to tell you the major stories of the past week! EAP 6.0 and the JBoss Data Grid 6.0 are out! As I said in my announcement blog for EAP 6.0:
"The feedback we've received since the first community releases has been overwhelmingly positive, as has the early access feedback. And we've even managed to find time to put it on to OpenShift, where it has been successfull as well! I'm confident that we'll build on this success as we move forward with point releases for EAP 6, other products that will be based on EAP 6 and of course, slightly longer term, EAP 7 and beyond! After having seen how well we've worked as a unified team (engineers, QA, docs, support, product managers etc.) I don't think there's much we can't do if we set our minds to it!"
It really has been a monumental effort! And with JDG 6.0 we enter the supported NoSQL/Big Data space, which is another huge achievement! In fact this week could be called the "GA Week", because Max just announced the availability of JBoss Tools 3.3 and JBDS 5.0! There is way too much good stuff in JBDS 5.0 to summarise here, so you should go read the blog entry. And some nice pictures might encourage you to do so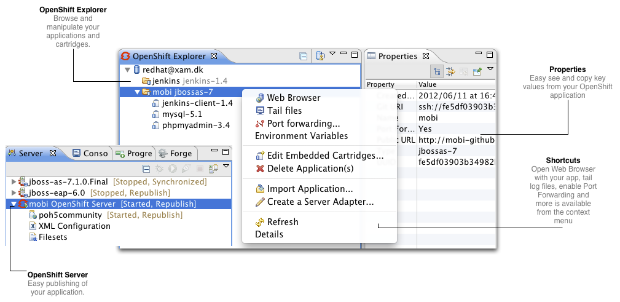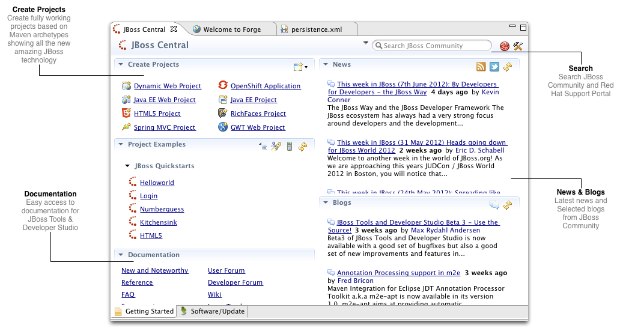 And of course we've had our usual slew of project releases, including BoxGrinder 0.10.2, JBossOSGi 1.1.1 and IronJacamar 1.1.0.Beta1. Amongst this flurry of release activity the team has also had time to discuss a few things going on elsewhere. For instance, Jonathan Halliday talks about the problems with trying to fake transaction semantics, something which we see a fair bit in some NoSQL/Big Data solutions out there (fortunately not ours, of course!) Andy Miller is giving his regular performance slot at JBossWorld next week - I'm sure it'll be packaged as usual! And Hardy talks about Hibernate OGM and the kitchensink example - yet more on NoSQL! Finally congratulations to Mark Proctor and the team again, for another sell-out world tour!
OK so there you are. A whistle-stop tour of JBoss activity this week. Next week is JBossWorld/Red Hat Summit, so you can expect a lot more announcements and things going on. If you haven't registered then there's till time. And of course we've got JUDCon at the start of the week so you should definitely come to that too!