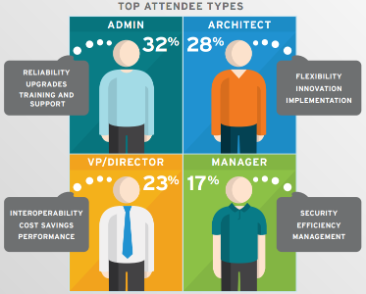 This week has been busy for alot of folks getting ready for DevNation and Summit.  With more than 170 sessions and labs, 8 keynotes, parties, and receptions, Red Hat Summit has something for everyone as shown in the infographic to the right. From business and technical sessions to hands-on labs to 1:1 conversations, there's something for each level of interest and need during Red Hat Summit. 
For Developers, in addition to Summit, this year's DevNation event will have four general sessions to capture our imaginations, inspire our work, and spark the conversations that move us forward. Our keynote speakers are ready to bring it.
Here's what you can look forward to.
- Freedom of choice. With 5 tracks, including sessions, panels, and labs, learning opportunities abound. Or you can hang out in our developer zone and charge up on coffee and electricity.
- Freedom of speech. You don't have to network, but if you do, you'll never find a cooler group of people.
- "Free as in beer." Can you really know what "free" means if you don't have a free beer in your hand? (But seriously, we have a few fun social events planned, and the hops will be freely flowing.)
- Freedom to break and create. We're going to hack like hell over 4 full days. We're dedicating 2 evening events to it, and you might win prizes even into the wee hours of the next morning.
- Freedom to roam. DevNation is co-located with Red Hat Summit, so you don't even have to leave the building to attend both conferences. Do both at once in the shared track.
Developer Position Available
The Fuse team is looking for an Eclipse Developer to primarily work on JBoss Tools Fuse tooling.
Win Prizes at DevNation Code Challenge!
Join us Monday, June 22, 6:00pm-11:00pm in Room 200 at DevNation in Boston!  Show off your coding skills and win prizes at the DevNation Code Challenge! Using showcased technologies from cloud, mobile, and data services--plus your creativity--you'll build an extraordinary project with friends (or on your own). Judges will choose winners from the projects built and presented during the session. The winners will walk away with awesome prizes and bragging rights (until next year).
Summit by Day, Party By NIght
Visit the Red Hat booth in Hall D at Red Hat Summit where you can see our awesome line up of demos and pick up a card with the party details which is being brought to you by the Application Platforms Business Group.  We look forward to seeing you there!
Conferences, Meetups and Webinars
Mobile, Microservices, and More...
This week's Releases:
Infinispan 7.2.3.Final - A few bugs have been found and fixwd in the Infinispan 7.2 branch.
Drools 6.3 SNAPSHOT - The team has rewritten the internal parts of our code that deal with multi-threading to remove a large number of synchronisation points and to improve stability and predictability.
Wildfly Swarm 1.0.0.Alpha3 - The team has fixed some things, enhanced others, written some tests, and generally knocked it together a little sturdier.
Keycloak 1.3.1.Final Released | Planet JBoss Developer - The team has done alot of improvements with this release.
Arquillian Container Chameleon 1.0.0.Alpha2 - In Alpha1 the definition for the JBoss AS / WildFly containers were hard coded. In Alpha2 we've externalized the configuration.
Bean Validation TCK 1.1.4.Final - BVTCK-68, which is about the removal of two tests from the TCK which could not be tested in a portable manner across containers. Check out the issue itself for the complete story.
Forge 2.16.2.Final - JBoss Forge 2.16.2.Final is now available