JBoss Everywhere - geographically speaking
I suspect many folks see "JBUG" and determine that must be tied to a jira or bugzilla entry. Well that is not the case, JBUG stands for JBoss User Group and they are popping up around the globe.  Recent startups are Neuchatel over in Switzerland, Washington DC and Milan, Italy. As well as many other speaking events. Look for the JBoss team at JavaOne, Devoxx and all your favorite developer conferences.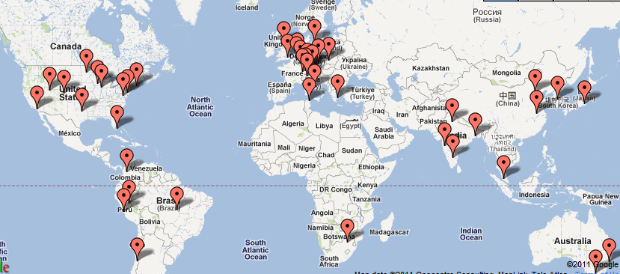 TorqueBox Everywhere
The TorqueBox core team and community are showing up everywhere.  Most JBoss'ers are frequent flyers - always participating in local community meetings around the world but the TorqueBox team sets a high standard.
Have you seen TorqueBox in the cloud with OpenShift?
Or TorqueBox in Brazil?
Or TorqueBox at the Ruby Hoedown?
Or TorqueBox in Ljubljana, Slovenija...or coming to London
Bring us your Ruby on Rails friends and give TorqueBox a try and check out configuring with Ruby instead of YAML.
JBoss invades Toronto Island
Big things happening in Toronto this week, the jboss.org developer framework teams (Seam, RichFaces, Errai, Snowdrop, Forge, Arquillian) along with their QA and Support teams are meeting on Toronto Island at Artscape Gibraltar Point.  A true retreat in every sense of the word, to plan for the next generation of JBoss sponsored developer facing framework & tools.   The energy and innovative thinking have been fantastic.  I cannot yet describe any of these ideas as they will be communicated at the appropriate time but let's just say the future looks bright.   And this from making a bunch of software engineers share air mattresses and a common washroom!
JUDCon London Agenda
JUDCon London is October 31st through November 1st and the agenda is now posted.
This is a great opportunity to spend time with members of the core JBoss engineering team representing AS (Application Server), jBPM, Drools, Infinispan, Arquillian and Hibernate.
And JBoss online via jboss.org/webinars
Scott Stark & Tobias Kunze gave a demo-filled live session on September 7th.  If you are interested in seeing JBoss "in the cloud" as a Platform-as-a-Service (PaaS) via OpenShift, please check out the recording (http://vimeo.com/28828146).  This is a great session to get the overview of both OpenShift Express and OpenShift Flex - all JBoss, focused on Java EE 6, ready to go, try it today.
The next JBoss Developer Webinar is on HTML5, make sure to register soon for a space in this session (www.jboss.org/webinars).
RichFaces CDK Hello World
RichFaces 4, a AJAX/RIA component set for JSF 2, includes a Component Development Kit - CDK, that you can use to create new, extend existing or wrap 3rd party UI controls/widgets/components.  This is a tool that can be used by the Java EE developers who wish to create their own custom components to be reused in their own projects.   Brian has not been here to long but as a long time community member he has hit the ground running.
JBoss Grows
The JBoss core team is always growing and we normally just forget to publicly call out those individuals who have join the open source movement.   That is a short coming on our part as open source is all about the community and the community is all about the individuals who give back to that community. I also welcome Jonathan Fuerth to the JBoss team.  We expect great things out of the Toronto-based Errai team!
Errai was a key element in our keynote demo (http://vimeo.com/25258416), enabling the normally server-side CDI custom eventing capability to reach the browser - real-time push - it is the future. 
JGroups Pub-Sub with Bela Ban
JGroups is a key element of JBoss, it is the underlying layer that makes clustering and technologies like Infinispan (distributed data grid & cache) possible.  Bela published a great post on how to use a publish and subscribe pattern with JGroups. 
And if you enjoy JSF, check out Stan's contributions to JSFUnit (Thanks Stan).
And JBoss' Hibernate 4 keeps on coming (Thanks Steve).
One reason I enjoy working on these blog posts is because it gives me a couple of hours to reflect on all the significant contributions that JBoss team members make consistently, whether those be code, in-person events (e.g. JUDCons, JUGs, JBugs) or virtual live & on-demand education (webinars, vimeo.com/jbossdeveloper).  It is easy to get caught up, heads down, pounding on the next deliverable.  Stopping for a moment to watch the magic happen is good for the soul.  Go Team!