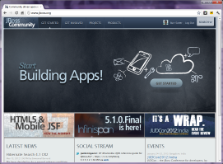 Hello and welcome!  We have been insanely busy for the last two weeks and managed to miss an editorial publication.  :-(   We will endeavor to be better about our scheduling.
Big changes to our various web properties have been made recently - specifically related to jboss.com and jboss.org - JBoss.com has been folded into redhat.com and hopefully all your previously bookmarked URLs are being redirected properly.  Leave us a comment if you feel there is something we missed.  In the case of jboss.org - it has been relaunched with a new, more engaging front page - where we are making it much more obvious how to get started with building applications using various JBoss technologies. 
jboss.org has historically been much more of a community OSS site where contributors, both internal and external to the organization, have been able to collaboratively work on some amazing technologies over the last several years.   However, we realize that we had an under-served userbase - developers whose primary focus was to build business applications on middleware, not necessarily build middleware itself.   For that group, we have developed and launched a new microsite of www.jboss.org/developer.  Our initial efforts have been around getting you started with HTML5 and mobile web application development and easy deployment to Openshift.  And that leads me to another major delivery.
This week we gave birth to JBoss Enterprise Application Platform 6 Beta - based on jboss.org's application server v7.1 and we also shipped JBoss Developer Studio 5 Beta 1 to support this new Java EE 6 offering.   The bottom line is, keep you eyes on www.jboss.org/developer - more tutorials, more videos and more examples will be coming soon.
JBoss visits Transylvania - Kabir "Van Helsing" Khan not only has a cool name but he has had some interesting travels.  He visited the Transylvania Users Group to deliver a presentation on JBoss AS7, Java EE6 and JAX-RS.   The Transylvanian Duke reminds of one of our newest projects - Immutant
JBoss in Egypt - Lukas Fryc, a member of our rocking RichFaces team, made a trip to Cairo for the 2012 Java Developer Conference.  Lukas was brilliantly able to cover Aerogear, RichFaces and Arquillian and he kindly posted his slides for review.  In addition, our very own Koen Aers presented and even had the time for an interview! Check out the video on his blog titled "Code like an Egyptian".  Koen has been bringing Forge to life inside of JBoss Tools.   We will definitely have to update some videos around Forge & Tools soon.  
Well that is all I have for now - JBoss has been extraordinarily active already in 2012 and the pace is quickening - more innovations, more presentations and more community. 
If you are one of the lucky few who managed to score a ticket to DevNexus 2012 in Atlanta, please find me and say hello.
Burr